MOSOP Elections 2018: List of Candidates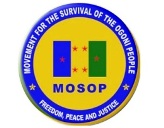 We are pleased to announce the list of candidates aspiring to various positions in the national affiliates and the national executive of MOSOP.
The full list has been dispatched through the various kingdom representatives on the electoral committee to the various chapters and will also be displayed at the national headquarter of MOSOP, Bori, Ogoniland.
Below is the list of aspirants for the the national executive positions. We may update the list with applications received before the end of the screening period on December 12, 2018.
President
1. Mr. Lazarus Tamana
2. Barr. Naabulobari Nwin Naazigha-Lue
3. Chief Elder Fortune Okwa Chujor
4. Mr. Fegalo Msuke
Deputy President
1 Oluji Bartholomew Okolaa
Secretary General
1 Deacon Monday Neeka Ziinu
2 Amb. Fidency Legborsi Tor-Ue
Publicity Secretary
1 Mr. Lezor Lenu Moses
Financial Secretary
1 Mr. Barinordum Ke-Eeh
Assistant Secretary
1 Mr. Alex Akori
Treasurer
1 Mr. Benjamin Dinee
Signed:
Chief Emmanuel Nkala
Chairman, MOSOP Electoral Committee
en
SOURCE :The Nigerian Voice (local news)