Motorists Call For Police Presence On Lagos-Ibadan Expressway Bridge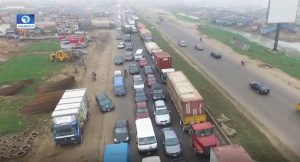 Following reported cases of armed robbery on the long bridge bordering Ogun and Lagos state on the Lagos-Ibadan expressway, motorists are calling for increased police presence on it, especially at night.
The robbers purportedly take advantage of the poor state of the road, which is riddled with potholes, slowing down vehicular movement and causing gridlock, to attack motorists and dispose them of their belongings.
A staff of Channels Television had earlier in the week, fallen victim after being held up in the traffic.
He was approached by the robbers who were wielding dangerous weapons. They forced him out of his car and he was thrown off the bridge into the swampy surrounding where other members of the gang were stationed.
He was beaten and disposed of cash and other valuables. While he managed to escape, some other victims have not been so lucky to escape alive.
The motorists who could not speak on camera, asked security operatives to provide surveillance on the bridge, and undertake a clean sweep of the area to avoid further attacks and loss of life
SOURCE: Channels Tv