My Journey To "Award of Great Achievement"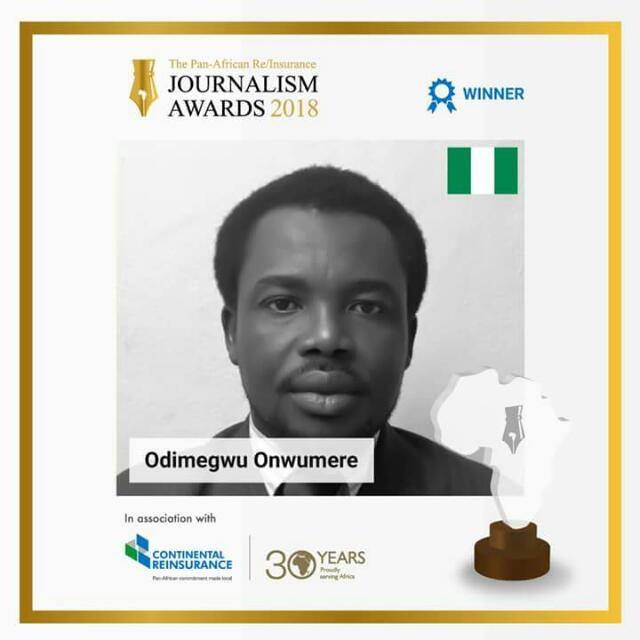 My people in Oyigbo, Rivers State, celebrated my journalism achievements. The date was May 6 2018. The venue was D' Truth Lounge, Union Street.
The organizers of the event had taken me uninformed. It was a surprise to me. I was barely notified of the ceremonial five or thereabouts hours to the kick-off.
Mr. Casmir Ogaraku and Lady Geraldine Chukwu deemed it wise that they put up the event in service of my Pan African Re/insurance Award 2018, which I received in Namibia on April 9, 2018.
Ogaraku and Chukwu's insight was that in a safe and sane environment, the government ought to have celebrated me, given that I won the overall of the awards across Africa, organized by Continental Reinsurance Plc. But since the government was yet to do so, they, my beloved ones had to celebrate me.
Anyways, according to a press release by Continental Re within the period of the awards titled "Winners of 2018 Pan African Re/Insurance Journalism Awards Announced", it read, "Odimegwu Onwuwere, a journalist with Nigeria's Africa Prime News has bagged the Pan African Journalist of the Year Award for the 2018 Pan African Re/Insurance Journalism Awards sponsored by Continental Reinsurance
.
"His winning article titled "Africa emerging new frontier in the reinsurance markets" investigates how foreign insurers that once rebuked Africa due to economic instability are now swarming for businesses on the continent because the sector is becoming alluring and dynamic due to unswerving GDP growth…"
Being the third edition of the journalism awards, "It received 61 entrants from 15 English and French speaking countries including: Kenya, Uganda, South Africa, Zimbabwe, Nigeria, Ghana, Namibia, Mauritius and Zambia for Anglophones; Ivory Coast, Cameroon, Senegal, Chad, Democratic Republic of Congo and Togo for Francophones," stated the release.
Conversely, at the celebration in Oyigbo, D' Truth Lounge, Air Cas Service LTD, and Oya Industries LTD, gave me "Award of Great Achievement". It is an honour that a prophet is recognized at home.
Before this time, friends and well-wishers had celebrated with me as the 2018 Pan African Re/insurance Award winner. Many media platforms like the revered ThisDay Newspapers gave my winning a wide coverage. The news was also awash online. Friends and well-wishers and my family members on social media escalated the news.
My experience in Swakopmund, (the place for the awards) this coastal city in Namibia, west of the capital, Windhoek, was a relish. Haboured in one of the best hotels in the country known as Strand, the sandy beaches around the hotel made my nearly one week stay in the city fascinating.
I was made to understand that Swakopmund faces the Atlantic Ocean. According to history, it was "Established by German colonialists in 1892, the city's colonial landmarks include the Swakopmund Lighthouse and the Mole, an old sea wall. Next to the lighthouse, the Swakopmund Museum documents Namibian history. Inland, the elegant Swakopmund Railway Station, now a hotel, also dates to the colonial era."
Desert takes a vast land of the city. There were calls for duty among the authorities. Hardly were there potholes on the roads. Their vehicles are not like Nigerians. Their vehicles are majorly German.
Namibia is about two hours from South Africa, and Nigeria to South Africa is about six hours. There was no direct flight from Nigeria to Namibia, occasioned by lack of Nigerian Carrier.
It was SA Express aircraft. And I took off from the Murtala Muhammed International Airport (MMIA), located in Lagos State. History says, "MMIA is the major airport serving the entire state. The airport was initially built during World War II and is named after Murtala Muhammed, the 4th military ruler of Nigeria."
At this airport, those that checked my papers were beggarly. Officials that were supposed to mind their various posts begged. "Anything for me?" they begged.
This habit was not the same in South Africa where I first landed to connect another aircraft to Namibia after hours. In Namibia and South Africa, no officials at the immigration units begged for money. They concentrated on their work.
While the MMIA was overcrowded by officials and the environment oozed with putrefying smell, O. R. Tambo International Airport, South Africa, was well organized. History says, "It is a major international airport in Kempton Park, Ekurhuleni, Gauteng, South Africa, near the city of Johannesburg and, to a lesser extent, the executive capital Pretoria." The same was applicable to the airport in Swakopmund.
Many experiences were gathered on my journey To "Award of Great Achievement." I can't thank Coss Williams enough for his advise at the earlier stage of my career. My parents and family have always been around.
I thank Elsie, Cess, Eniola of Continental Re, and Nike of The Punch Newspapers, Nigeria, who guided the way I travelled to Namibia. I thank my friends on social media who amplified my triumph. Ogaraku and Chukwu and Chukwudi Nlewem are not left behind. I thank all of you.
Odimegwu Onwumere is a Media Consultant who has won many journalism awards; he is based in Rivers State, and can be reached via: [email protected]
en
SOURCE :The Nigerian Voice (local news)