N10b Defamation Suit: Ugwuonye Absent, as Court Adjourns to Oct. 25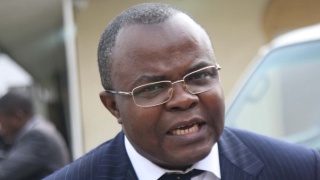 Controversial lawyer, Emeka Ugwuonye was conspicuously absent at the resumed hearing of the ten billion Naira (N10b) defamation suit instituted against him by ex-husband of missing Abuja woman, Charity Aiyedogbon, Mr. David Aiyedogbon, even as the matter was adjourned to 25th October, 2017.
Our Correspondent reports that although the Court did not sit on 21st September, as earlier fixed, the defendant was not in Court and did not send any legal representation.
Meanwhile, on the same day, Ugwuonye, in a Facebook post captioned: "how some of Chacha's friends have abandoned her so soon" confirmed that the matter was to come up on the 21st of September, but said he was indisposed.
"Today, the case of David Aiyedogbon against me will come up in Abuja, where David had sued me for allegedly defaming him……Unfortunately, I will not be in Court in Abuja because I am still in the United States, seriously indisposed."
In an earlier post on September 18 on his Facebook Group, The Due Process Advocate, Ugwuonye said he will not come back to Nigeria for any reason, fueling speculations that he may be on exile.
It would be recalled that David Aiyedogbon dragged Emeka Ugwuonye before a Federal Capital Territory High Court sitting in Apo, Abuja, for allegedly defaming his character.
Mr. Aiyedogbon approached the Court to seek redress following the alleged refusal of Ugwuonye to desist from posting materials he considered defamatory on his Facebook group, The Due Process Advocates. He also wrote Mr. Ugwuonye through his lawyers, demanding an apology and retraction, but he refused to heed, leaving Mr. Aiyedogbon with no option, but to approach the court to seek justice.
Ugwuonye had accused Mr. Aiyedogbon of having a hand in the sudden disappearance of his estranged wife, Charity Aiyedogbon.
In addition to the Ten Billion Naira damages, the Suit, with number CV/2750/16, between David Aiyedogbon (Plaintiff) and Emeka Ugwuonye (Defendant) on defamation of character, before Justice Peter Kekemeke of the Federal Capital Territory (FCT) High Court 14, Apo, Abuja; also prays that the defendant be ordered to pay for the cost of the litigation.
The Plaintiff is also seeking an order of perpetual injunction "restraining the Defendant, his Agents, Privies, Associates or whosoever called" from making further defamatory publications against him and his family members.
Mr. Ugwuonye is accused of posting severally on The Due Process Advocates (DPA), claiming to have evidence of the involvement of the missing Charity Aiyedogbon's ex-husband, David Aiyedogbon in her sudden disappearance. One of the posts reads in part:
"I now have overwhelming evidence that Mr. David Aiyedogbon killed his wife, Chacha. David has an idea of the kind of evidence at my disposal."
en
SOURCE :The Nigerian Voice (opinions)