Naira Undervalued By 14% At $/N360- Report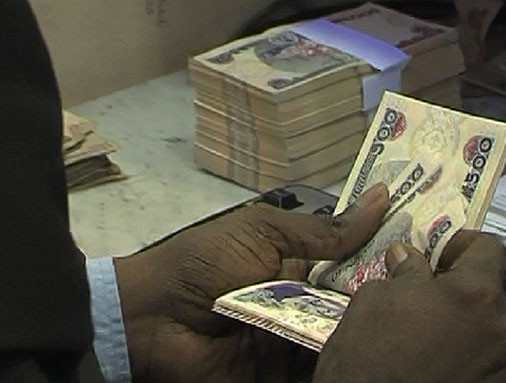 Even at the adjusted interbank foreign exchange rate of N360/$1, the Naira, is seen as cheap and undervalued by as much as 14 per cent.
This was disclosed by analysts at Renaissance Capital who cited their FX models as basis for their assumptions.
Specifically, the analysts described the profile of the Naira in the forex market as hugely undervalued since the convergence of interbank and NAFEX rates in August, which has seen the nation's currency falling from $/ N315 to $/N366.
"On 2 August, banks began to publish indicative prices based on trades at the NAFEX window, at the behest of the authorities. This led to the adjustment of the interbank FX rate to $1/N366, from $1/ N315 previously, and its convergence with the only market determined rate (outside the parallel market), the NAFEX rate.
"At today's interbank rate of c. $1/N360, the naira is cheap; it is 14 per cent undervalued, according to this analyst's 13-year real effective exchange rate model.
"We think a stronger external sector and tighter monetary policy imply naira appreciation risk in the near term, and as such, we revise our YE17 FX rate forecast to $1/N332 as against $1/N447 previously," they posited.
The Naira, according to them, is inclined to strengthen in the short term, based on "our fundamentals-based FX model (as it has on the NAFEX since its introduction in April at c. $1/N380 vs $1/N360 today)," attributing their stance to an improving external position and the tightening of monetary policy.
However, they expect the Naira to trade weaker in 2018 on the assumption that an accommodative policy is put in place by the central bank, and that oil output and price move sideways.
"Looser monetary policy in 2018 implies a weaker Naira," the analysts stated, adding that Godwin Emefiele, the central bank governor, had expressed a desire for policy easing in a mid-2017 monetary policy committee (MPC) statement, but thinks appropriate liquidity conditions should precede it.
They, therefore, forecast an FX rate of $1/N373 at year end 2018 (YE18).
"Our FX model predicts a rate of $1/N373 at YE18; assuming monetary policy becomes accommodative and little upside for the external sector. We think it is probable that instead of appreciating in the near term, the naira weakens gradually to $1/N373 at YE18, which would signal price stability."
On policy rate, they believe that year-to-date tightening of naira liquidity is paving the path towards rate cuts.
"We are revising our YE17 policy rate forecast to 13 per cent vs 14 per cent previously. We think a rate cut is more likely in November than at the 26 September meeting, in part because inflation remains elevated. We think another 1-2 ppts is likely in 2018," they added.
They equally expect electioneering to push up government spending in 2018 and believe the risk of the budget deficit being monetised will increase, which would be negative for the naira.
-Independent-
en
SOURCE :The Nigerian Voice (business)