NAPTIP Opens Zonal Command in Osogbo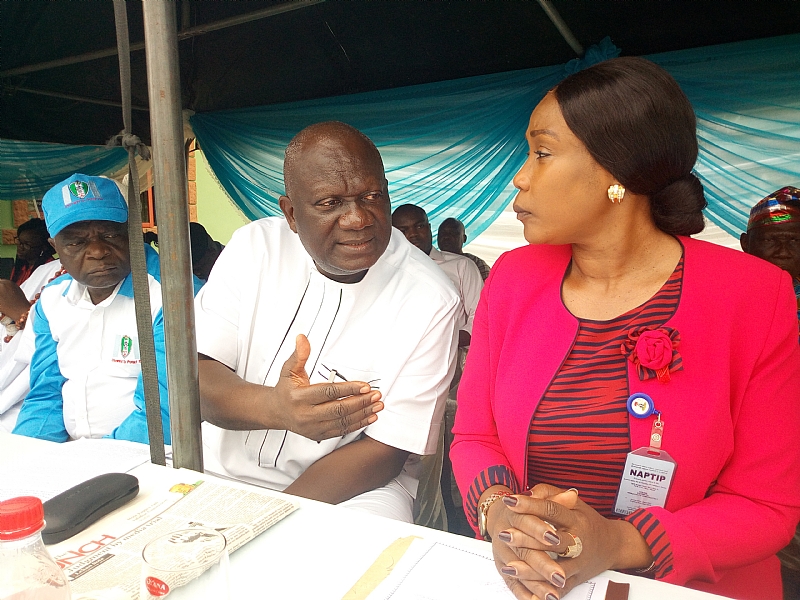 The National Agency for the Prohibition of Trafficking in Persons (NAPTIP) has opened a zonal command in Osogbo for Ondo, Osun and Ekiti states to reduce pressure on its Lagos state command of the agency.
The official inauguration of the NAPTIP new office in Osogbo by the Osun State Governor, Mr Rauf Aregbesola was witnessed by high caliber personalities, traditional rulers and heads of security agencies in the state.
Aregbesola who was represented by his Special Adviser of Security Matter, Mr Tope Adejumo promised that the state government would collaborate with the agency to minimize human trafficking.
Speaking on the occasion, former governor of Osun State, Prince Olagunsoye Oyinlola said he was ready to support the agency in its war against human trafficking. He urged the agency to take the campaign against human trafficking to the grassroots.
A revered traditional ruler in the state, Oba Adedokun Abolarin, the Orangun of Oke-Ila also assured the agency of the support of the traditional institution and the people of Osun State.
With the opening of the Osogbo command, NAPTIP now has 9 Zonal Commands across the country located in strategic cities including in Lagos, Benin, Enugu, Uyo, Kano, Sokoto, Maiduguri and Makurdi.
The Director-General of NAPTIP, Julie Okah-Donli while addressing the gathering said the agency has commenced full operations in the Osogbo Zonal Command and solicited supports of stakeholders and security agencies in the state to assist NAPTIP to achieve its mandate.
The Osogbo Zonal command was carved out from the Lagos Zonal Command to ease the pressure on Lagos and to bring the Agency closer to the people for easy reporting of human trafficking cases and speedy handling of all matters relating to the fight against human trafficking.
The Osogbo Zonal Command of NAPTIP was created to oversee Ekiti, Osun and Ondo States so as to ensure that responses to rescue operations are promptly made in real time.
She explained that the distance between Lagos and many of theStates within the South-West geo-political zone was far and affecting the responsetime to operational issues in many of the states.
She said the agency has made some modestachievement since inception in 2003 by rescuing and supporting over 12,000 victimsand securing 325 convictions. She lamented that the trend of deportation ofNigerians from different parts of the world especially in Africa in recenttimes was frightening.
Okah-Donlinoted that Osogbo is very strategic to the operations of NAPTIP and commendedthe government of Ekiti, Osun and Ondo States for their cooperation and supports.She appealed to them to continue to giveadequate supports to the Agency.
Her words: "We need supports of thegovernment at state level because the people that the Agency is trying to savefrom slavery or untimely death are first of all indigenes of a particularcommunity and State before being Nigerian citizens."
"To our sister Law Enforcement Agencies, Iurge you to assist this Command meet its mandate. No one is competing withanyone. We are all here to complement each other to rid the country of criminalgangs."
"Proper Liaison and collaboration is what isneeded right now. NAPTIP is empowered as a focal Agency of government toimplement all laws concerning trafficking in persons and the best you can dofor us and the nation is to assist through intelligence sharing, jointoperations, prompt referral of all trafficking in persons cases for proper investigationsand diligent prosecution and any other necessary."
"On our own part, we will ensure that casesthat come to the command that are not within the mandate of NAPTIP are promptlyreferred to appropriate sister Agencies. We will also provide relevant trainingon human trafficking to you to make the job easier for all."
"As an Agency, we have a renewed commitment to ensure that theTrafficking in Persons (Prohibition) Enforcement and Administration Act 2015,is implemented to the letter.
"Under my administration, there will be no sacred cows, no matterhow highly placed. We have made a commitment that our youth population whichrepresents the prosperity of this country must be rescued and protected fromthe claws of unscrupulous elements who do not mean well for Nigeria.
"For instance,between February 2017 and now, over 2000 Nigerians have been deported from variousparts of the world back to Nigeria for various migration offences including:human trafficking, Smuggling of migrants, non possession of valid traveldocuments amongst others.
"The deportations were from Libya, Italy,Russia, Mali, Burkina Faso, Ghana, United Arab Emirate (Dubai), Cameroun, CoteD'Voire and Togo. Majority of the deportations are from Libya.
"It may interest you all to note that nofewer than 540 other Nigerians are set for deportation to Nigeria from Libya inthree batches of 180 each this August beginning from Thursday 10th August.
"This is not good for us as a people and weseek the cooperation of government at all levels to halt this trend by takingactions that would reduce vulnerability of our people to being trafficked outor tempted to leave the country at all cost and through any means includingdangerously ones, without knowing what awaits them at destination.
"Women and young girls are recruited forsexual and labour exploitation in parts of Europe, the Middle East and evenwithin the African Continent. The new dimension and most frightening now is theharvesting of organs and vital human parts for sale by traffickers.
"Nobody including adults is safe. This callsfor concerted action by all as Nigeria cannot make meaningful progress in itshuman capital development index, with a sustained depletion of her young and brightest.Our inaction or self-denial will not only accelerate the frightening dimensionof this crime but also make the menace protracted.
"Human trafficking which is modern day slavery must be cut offfrom Nigeria and we can only succeed in this when every member of the communitywatches the back of the other.
"We can do this through formation of community watch groups in ourlocalities and ensure that every identified trafficker becomes an enemy to alland report them to the Agency for investigation and proper prosecution.
"The days of complacency and indolence by various leaders andcommunities in the fight against human trafficking are over. If you see something, please say something sothat you don't become an accomplice when the chips are down.
Okah-Donli said the report of a research conductedby NAPTIP in collaboration with the United Nation Children Fund (UNICEF) indicated that the agency needs topay more attention to Osun state, particularly the Ejigbo community because of the culture offrequent migration of indigenes of Ejigbo to and from some countries on theWest African coast, particularly, Cote d'Ivoire, Togo and Ghana.
She added that the research which was carried out between November2012 and July 2013 with the titled "The Impact of Constant Migration on Ejigbo,Osun State and its Implications for Efforts to Combat Child Trafficking,"was done as part of the NAPTIP's efforts to provide information that would engenderevidence-based developmental policies for the Government.
According to her, "the research focused on the impact of constantmigration on various aspects of the life of Ejigbo Community in Osun State -education, population, agriculture, commerce and culture."
"Ejigbo was carefully chosen because, though located in thehinterlands, the community had all the features of a border community becauseof the culture of frequent migration of indigenes of Ejigbo to and from somecountries on the West African coast, particularly, Cote d'Ivoire, Togo andGhana."
Okah-Donlisaid it is on record that Ekiti, Osun and Ondo are among theendemic states as far as trafficking in persons in Nigeria is concerned and allhands must be on deck to change that trend.
en
SOURCE :The Nigerian Voice (local news)