NAS set to bring benefit of science, technology to ordinary Nigeria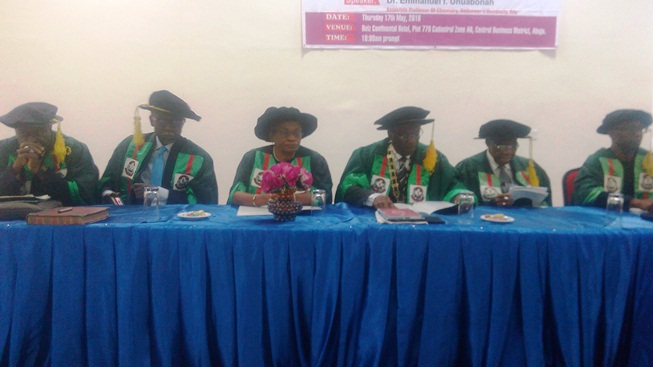 The President, Nigerian Academy of Science (NAS), Prof. Mosto Onuoha on Thursday assured Nigerians that the association was working hard to ensure that the gains of science and technology were brought to the ordinary Nigeria.
Onuoha who gave the assurance at the induction of fellows and presentation of 2017 NAS Gold Medal/Medalist's Lecture in Abuja with the theme as ''Functional clays: potent charms for water pollution.
According to him only science could solve problems like poverty elevation and food security, NAS is working hard to ensure that what was available in other parts of the world were brought to Nigeria and also take what was available in Nigeria outside the country.
He pointed out that Nigeria had no science culture but stressed that NAS was working to encourage science culture.
The Chairman, NAS, prof. Gabriel Ogunmola who said that the awards were presented for the first time stressed that it was meant for deserving Nigerians who made the scientific achievement in the science of national relevance and resonance.
Dr Emmanuel Unuabonah, Associate Professor, Department of Chemical sciences who give a lecture on the ''Functional Clays: potent charms for water pollutants'' focused on the development of alternatives for the replacement of expensive zeolite, activated carbon and membranes currently being used in the treatment of water and wastewater.
In addition, these innovation materials are easily regenerated, revisable over several cycles to efficiently treat wastewater, and do not produce any toxic disinfection by products unlike in chemical disinfection methods for pathogens in water.
This innovation has the potential to be further developed into points-of-uses systems for ready treatment of water in rural communities.
en
SOURCE :The Nigerian Voice (local news)