NASS should reconvene immediately to ensure smooth running of government: Presidency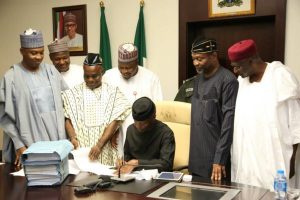 The Presidency has called on the National Assembly to reconvene in order to ensure smooth running of government, adding that some pending matters before the National Assembly would make governance difficult unless they receive urgent attention..
The Senior Special Adviser (SSA) to the President on National Assembly Matters, Senator Ita Enang, who made the call at a press conference in Lagos, cited the need for the approval of supplementary fund as an example of such pressing needs.
Enang said there is the need for harmony between the Executive and Legislative arms of government to ensure smooth running of government for the benefit of the people of the country.
Hee said, "We are appealing to Senate leadership and all caucuses of the National Assembly to see this as a clarion call for the good of the nation.
"As the Liaison Officer between NASS and the federal government, I know it is not the intention of the Lawmakers to make Nigerians suffer.
"The NASS vacation is usually planned to coincide with school vacations so that members can spend time with their children. However this is an election year and the budget has just been appended to hence the urgent need to give approval for Supplementary funds for it.
"We are not compelling them, we are appealing to them. As a liaison officer between the Presidency and the NASS, my duty is to make sure that both arms stay together and work in harmony."
The Senate had decided to go on break following alleged attacks on the leadership of the National Assembly.
The Senate President, Bukola Saraki, cited the alleged siege laid to his house and that of the Deputy Senate President, Ike Ekweremadu.
The Senate said it would not reconvene until September 25.
Reacting to the defection of some members of the National Assembly from the All Progressives Congress, APC, to the Peoples Democratic Party, PDP, Enang said it was a normal development.
According to him, such defections were regular occurrences ahead of elections.
He said they had nothing to do with President Muhammadu Buhari.
"Defections are not a sign of anything to worry about in a political party. None of the defectors is complaining about executive treatment of their people but about winning nominations for tickets outside," he said.
en
SOURCE :The Nigerian Voice (politics)