Nathan Ake displayed real promise vs Spurs, can save Chelsea big money in summer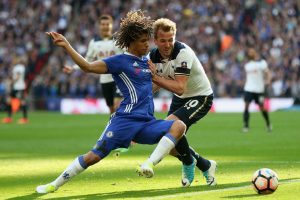 While Nemanja Matic's stunning strike which wrapped up the 4-2 win over Tottenham sparked wild celebrations among Chelsea fans, perhaps more important in the long term was the quality of Ake's display.
The absence of Eden Hazard and Diego Costa from Antonio Conte's starting line-up ensured the  22-year-old's inclusion alongside David Luiz and Cesar Azpilicueta almost went unnoticed. But Ake ensured he could not be ignored for long as within a few minutes of the game starting he had won the ball off Harry Kane with a crunching tackle before playing a fine pass to Michy Batshuayi. It was this intervention that sparked the counter attack which led to Willian opening the scoring with a superbly-struck free-kick.
Few who have followed Ake's career closely will have been surprised by such composure. After all, he made his professional debut for Chelsea at 17 and started a Europa League quarter-final tie against Rubin Kazan in Moscow in 2013.
But first-team opportunities have been hard to come by and Ake has served loan spells at Reading, Watford and Bournemouth. It was during his spell at Bournemouth this season that a breakthrough was made. The Holland Under-21 international was so good in just 10 starts for the South Coast side that Conte cut the season-long agreement short in January.
Conte's chief motivation was to ensure he had cover for injuries and suspensions and before Saturday, Ake had made just two appearances since his return to Stamford Bridge. Indeed, questions had been asked over why he returned from Bournemouth at all but, against Spurs, he provided the answer.
With Gary Cahill ruled out through sickness, Conte chose Ake to play in his three-man defence — some call when other options included veteran captain John Terry as well as France international Kurt Zouma.
After making a bright start, Ake was suddenly under scrutiny after losing Kane in the penalty area — not the first defender and surely not the last to do that — and the Tottenham striker headed home an equaliser.
Some players might have let that get to them. Instead, Ake appeared to become even more of a positive influence on proceedings.
He was comfortable in possession and kept making timely interventions, none more so than when, as the last man, he robbed Kane of the ball in the 18-yard box with a fine challenge.
Conte is bound to recall the experienced Cahill for the season's climax and no doubt speculation regarding a summer transfer will start once again, not helped by the fact that Conte is looking to recruit heavily during the close season, with more defenders a priority.
But Ake proved he can be trusted when it counts — and that could be priceless to Chelsea for years to come.
en
SOURCE :The Nigerian Voice (sport)