NDE Trains 50 Youths, Women On Environmental Beautification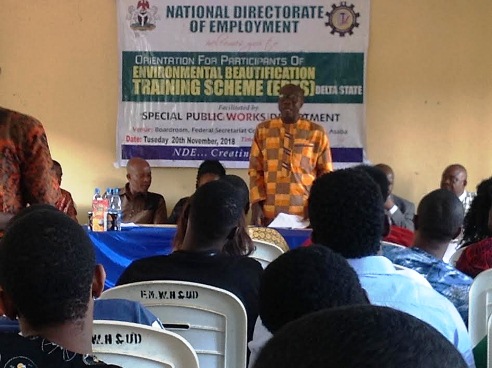 Under its Environmental Beautification Training Scheme (EBTS), the National Directorate of Employment (NDE), has recruited 50 youths and women for training in Delta State.
Our correspondent reports that the participants, who had their orientation on Thursday in Asaba, would be deployed to various training outfits across the state where they could acquire the needed skills for three months.
The training was part of the Federal Government programmes to create jobs and make the people employers of labour rather than seekers of white collar jobs that no longer exist.
In a key-note address, the Director-General, NDE, Dr Ladan Mohammed, represented by Mr Francis Aniny, State Coordinator said the training was part of the directorate mandate to create employment for all categories of Nigerians; the youths, women, men, retirees among others.
He said that the 50 persons applied from across the state to the directorate to be trained in line with the directorate's policies and programmes, adding that the training captured all categories of persons.
"My advice is that the participants should take the training seriously and embrace it with the mindset to excel and to become master trainers and employers of labour. They must remove that mental orientation from this white collar jobs to self-employed as the only way out because the idea of looking for quick money will not save the situation and the consequences are sever," Mohammed said.
According to him, academic certificate is no longer enough to carry anybody through; there is the need for people to acquire skills that they can rely on should other opportunities fail.
"These skills will make them not only employable but employers of labour and today we are training 50 youths and women on hard landscaping and soft landscaping. Hard landscaping had to do with interlocking, tilling, others while the soft landscaping had to do with flowers among others aimed at environmental beautification".
In a remark, the South-south Zonal Director, NDE, Edem Duke, represented by Mr Austin Asilime, Chief Public Works Officer, the Zonal Office responsible for the training, charged the trainees to have a positive mindset to enable them succeed.
According to him, unemployment in the country is no respecter of any person irrespective of sex.
"Today, interlocking, plaster of paris(POP), tilling, horticulture among others offer good opportunities and money, so, women and youths must develop a mindset and passion to do something new and create designs that would give them more opprtunities to excel in life".
On his part, the Director, Special Public Works, NDE, Abuja, Mr Cyril Offiong, represented by Mrs Fransica Ezeaku, NDE Research Officer I, charged the trainees to embrace the golden opportunity offered by directorate to build and create wealth for themselves.
According to Offiong, certification is no longer the emphases in Nigeria today but the skills you acquire can expose you to good living.
"I will advise you to be loyal to your master where ever you are deployed to serve after this orientation and you must take the training seriously to enable you acquire the right skills and in good time".
Also, the trainers, Mrs Esther Chukwuocha and Mr Godwin Agbolahon challenged the youths and women to embrace the new culture of acquiring a skill rather than depend on certificates for white collar jobs that were not there.
Mrs Esther Chukwuocha, an Engineer, said, "Nothing again is unusual in life now for a woman doing what people in the past regarded as odd for a woman to do; anything a man can do to get money, a woman can also do it to get money, it is far better than being unemployed.
"There is nothing too sweet than being self-employed, women are into horticulture, landscaping, tilling, even lots of women are now into building in Nigeria. Nobody holds anybody responsible for being a failure, young girls who loses their virtue for cheap money today in excuse that there is no employment would have themselves to blame but my advice is that they should return and get a skill.
"This is because the Bible says, I will bless the works of thy hand; that means you must be doing something before God blesses you; I am an engineer by profession, a trainer, I lay interlock, tiles among other things," Chukwuocha said.
Agbolahon, a former trainee of the NDE, said that there was nothing gratifying than to be self-employed.
"Over eight years ago, I took a decision not to work for anybody not even government, so, I went into horticulture and beautification in a lawn care company, and I have always told people that there is nothing you do in this country that would not sustain you.
"You must explore with your skills, if you are depending on government for jobs, you are only wasting your time and missing the target but with that skill that you have acquired, you can live good life," Agbolahon said.
Some of the trainees in an interview thanked the Federal Government and the NDE for the opportunity giving them to fulfill their dreams by becoming self -employed.
A graduate of Accounting, Miss Salvation Nike, from Ebony but resident in Delta, said that it has been her desire to explore opportunities in horticulture because of its beauty and gains.
"I am participating in the training because I want to break this issues of women staying at home as housewife doing nothing.
"I want to be an employer on labour by creating that environment, particularly in the area of horticulture because in today's world there is hardly any home that does not need flowers to beautify the environment and I know I can make good money from it," she said.
Another trainee, Mr Jude Chigwe from Okwuani in Delta, said his interest in the training was to become self-employed, make a good living and to impact other youths in the state.
"It will give me joy if I become self-employed than working under the governor; I am interested in interlocking and tilling because every house today requires it.
"It makes the home look good and if this is happening and people love it, it means that there are great opportunities for those of us who will take up that area of beautification to make good living.
"Ever since, interlocking and tilling have been my dream even though I am a graduate, so, this training is an opportunity for me and I must thank the federal government and the NDE for this opportunity," he said.
en
SOURCE :The Nigerian Voice (local news)