Ndlea In Borno Arrests 312 Suspects, Seizes 545.369 Kg Of Drugs In 6 Months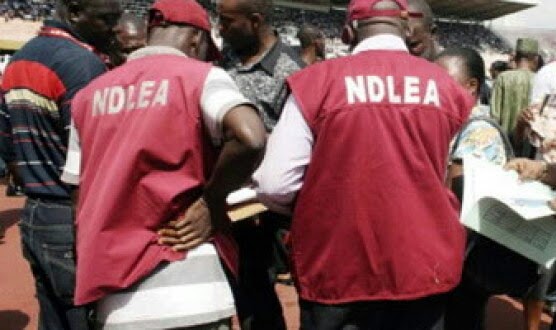 By Ahmed Abu, The Nigerian Voice, Maiduguri
The National Drugs Law Enforcement Agency, (NDLEA) Borno state command has confirmed that they arrested 312 persons from January 2018 to date with a seizure of 545.369 kg of solid drugs and 222 litres of cough syrup.
The Borno state, commander of the NDLEA, Mr. Joseph Iweajunwa stated this while briefing journalists as part of activities to Mark United Nations Anti Drugs Abuse and trafficking in his office in Maiduguri "the command has arrested 626 suspects with 617 male with 9 female and a total seizure of 517.423 kg, 10 pitches of Heroine and 2 pinches of cocaine from January 2017 to December 2017 while for the first six months of 2018 from January to June, arrested 312 suspects consist of 310 males and 2 females with 545.369 kg of solid drugs and 222 litres of syrups".
Hr said the theme of the this years UN Anti Drugs Abuse and Trafficking was "listen First" was to emphasis the needs for the parents to listen to their children, the young and the the youths as the first step to help them grow healthy and safe.
" in thr area of drugs demand reduction, the command counseled and offered drugs education to 183 suspects, referred from the operation department. We also counselled and rehabilitated 6 in house clients ", the commander stated.
While lamenting the inadquate funding of NDLEA, MR. Iweajunwa called on the federal, state, and local government s, as well as individuals and cooperate organisations to support the agency, as drugs war is a collective war that should not be left in the hands of the NDLEA alone..
"There is also need for synergy and collaboration between NDLEA and other sister security agencies for the common good of the nation, " he added..
He said that in their efforts to stem the use of drugs and trafficking among the youths, they have take the sensitization campaign to both secondary and tertiary institutions to educate them on the dangers and effects of drugs Abuse.
en
SOURCE :The Nigerian Voice (local news)