New Movie Alert: 'Stormy Hearts' by Judith Audu set to hit Cinemas June 2nd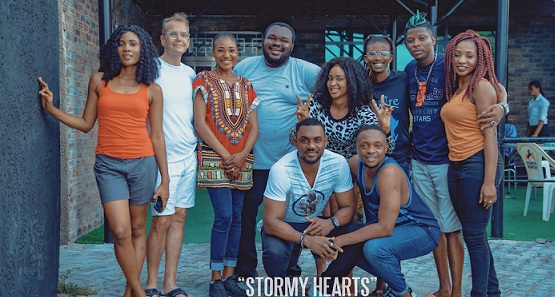 Source: Nathan Nathaniel Ekpo/Nollywoodgists.com
2016 was arguably one of the most fantastic year for Nollywood and 2017 seem to be shaping up to surpass the achievements of 2016, as amazing movies are released week after week since January 2017.
The industry is already packaging something that will also become one of the audience favourite too this year, it's a Music Drama called 'Stormy Hearts'. Produced by Judith Audu, Directed by Tope Alake, and written by Brenda Ogbuka and Chijioke Ononiwu.
The movie stars Christiana Martin, Theresa Edem, Eddie Watson, Kenneth Okoli, Fred Amata, Etinosa Idemudia, Kelechi Udegbe, Gregory Ojefua, Rotimi Salami, Stan Nze, Debbi Ohiri, Tomiwa Kukoyi, Ogee Nelson, Omoye Uzamere, and a host of other fantastic actors.
Stormy hearts is a Judith Audu Productions Project for Rok Studios. The movie will be distributed by Genesis Cinemas and it will start showing in Cinemas from the 2nd of June 2017.
Synopsis:
After BASI, a music producer, quarrels with his protege KACHI, a talented singer, over her partying ways, she abandons him for Johnson, a bigger music producer in town. The breakup hits Basi hard.Meanwhile, Ella, a prostitute escapes from her abusive pimp to another city to start a new life. She finds an apartment right next to Basi's flat, where she would hear Basi playing mournfully on the piano each night. Ella and Basi paths cross and after much pleading from Ella they develop a relationship that changes both their lives forever.
'Stormy Hearts' is Judith Audu's second feature film project after the successful outing of her highly acclaimed 'Just Not Married' movie that went on to premiere at the Toronto International Film Festival, City to City Focus, 2016, and got over 20 nominations and won several awards including the AMVCA 2017.
SOURCE: The Nigerian Voice (entertainment)