*Nigeria, A Country Where Cows Rule And The Poor Are Fed Bullets*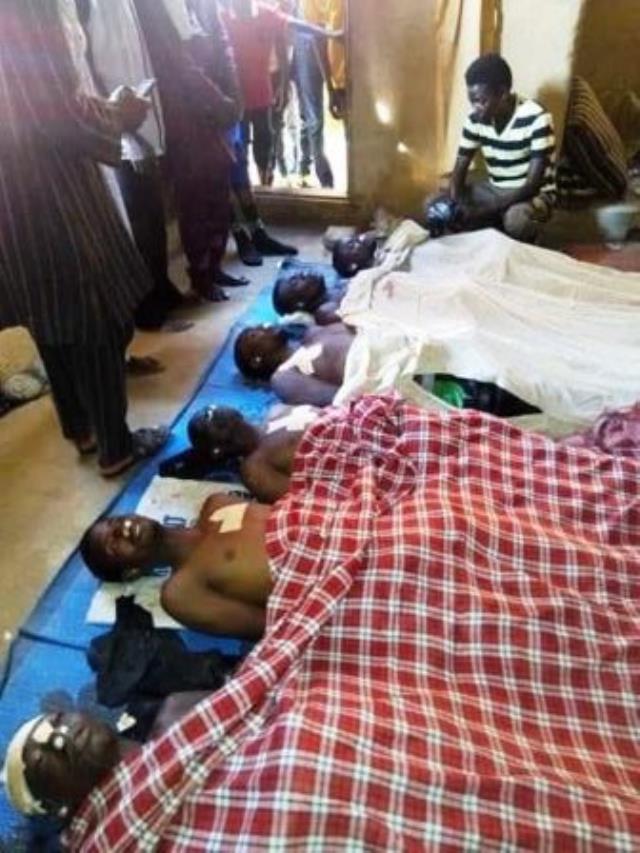 The latest genocidal hunt down of minority Muslims of the shia classification makes you wonder if Nigeria is earth's window to Hell.
*First Let Me Tell You About Our President*
Buhari is a coward. Nigeria's president, Muhammadu Buhari is nothing but a coward. Only a coward sends the army to shoot and kill unarmed protesting and rioting youth.
He did it in Zaria in 2015, killing and secretly burying 1000 youth in the middle of the night. He did it in Onitsha in 2016, also burying over 100 youth he killed, secretly in the military cemetery as PremiumTimes reported. And he is doing it again now. He is a sick, psycho coward.
Buhari says if he was not "educated" and employed he would have been a marauding Fulani terrorist.
The Fulani terror herders have declared war on Nigerians too many times but are protected by Nigeria's police.
Buhari pardons Boko Haram terrorists and "reintegrates" them into society. It is no surprise that in 2013 Buhari kicked against the killing of Boko Haram terrorists entreating then president Jonathan to reward rather than kill them.
Our president LOVES radical islamist terrorists.
Buhari through his spokesman have said we better give up our land to Fulani herder terrorists or be buried 6 feet deep. Yes he said it. Watch:
Fulani terrorists are classified the 2nd most deadly terror group on earth. Killing over 1000 Nigerians every year, but Buhari and his weird Tramadolian Transmitting police chief always grant them above-the-law immunity status to keep on killing farmers and other poor unhindered.
In that same country, peacefully protesting shia Muslims are killed for at most throwing stones after the army blocks their RIGHT to proceed in peaceful protest.
Is it not illegal that while Nigeria is not under military dictatorship, police are mere boy scouts and the army has become the primary "law enforcer?" Sick. Barbarism in 2018!
There are no anti-riot police with batons, shields, water cannons and tear gas in Nigeria? Rather the military are sent to kill unarmed protesters, day after day. Unbelievable. This is Nigeria, as Falz sang.
Rather than handcuffs, Nigeria issues bullets. Rather than detention, Buhari prefers secret burial.
Nigeria is the only country where the military announces that "only 3" protesters are killed every time: Zaria massacre – 3, Onitsha massacre- 3, last Friday – 3; Today -3, Tomorrow -3, Next week – 3. Animals.
But even more sadly, Nigeria is the only country in the world where civilians will defend military brutality against stick and stone wielding protesting youth.
Atiku will never condemn the massacre of the innocent shia protesters because it is a radical event sanctioned by the Saudi sponsored Izala-led northern elite, and he wants their vote and Saudi coins from the butchers of Khashoggi. Yes. I said it.
Radical masses celebrate the murder of shia Muslims and wish all 15 million shia can be lined up and killed. And Nigeria is not in short supply of these scum. Brainwashed by "Imams" schooled in fanatic wahhabi Takfiri ideology over years of a $98 billion Saudi global radicalism project now being dismantled by Trump. See: https://newsrescue.com/wahhabi-terror-saudi-usa-open-joint-center-riyadh-control-new-islamic-text-tillerson-video/
Interestingly shia Muslims, all 15 million of them have never been reported to have killed any civilian before in 30 years of existence.
In contrast, Izala have killed hundreds, pro Buhari fans have killed 1000, APC has killed, PDP has killed, OPC has killed, MEND has killed. But shia is black painted for their unique, unrivaled peaceful difference. Their insistence on non violence is annoying the ish out of the cowards and their vampires, satanic cult.
Kaduna's governor at the time, Makarfi begged the United States to intervene, accusing Atiku, Gusau and Izala sect of orchestrating fanatic riots in several northern states, Kaduna, Katsina, Benue, Nasarawa etc, riots that claimed 1000s of lives. You see, this is the Buhari club, the Buhari, Atiku club that reign madness and drink the blood of Nigerians. See: https://newsrescue.one/bombshell-us-wikileaks-cables-atiku-gusau-izala-behind-radical-terror-in-kaduna-benue-katsina-others-gov-makarfi/
You see, cows rule Nigeria.
*But The State Promoted Terror And Violence Is A Purposeful Distraction By The Elite*
You will always see government orchestrated terror and violence when elections approach. Nigeria's leaders use violence to confuse and distract the people from the failure of the state. They use it to garner support from radical fanatic elite.
And while this happens, poverty destroys the fabric of society as all the holes in the NNPC Diezani used to steal through have been left open and even expanded.
Baru and Kyari loot twice what Diezani used to loot. In addition to the fuel subsidy, now actually increased, a secret FOREX subsidy has been added with the aid of CBN's crooked Godwin Emefiele to allow double looting. Nigeria is being looted silly like never before!
*NNPC Is A Private Company*
NNPC is a private company and not federal as it defended itself when refusing to oblige Falana's FOI case for it to open its books. See: https://punchng.com/foi-nnpc-refuses-to-give-fuel-import-details-to-falana/
NNPC LIMITED has and spends a budget twice our annual budget with no oversight whatsoever. Can you believe that!!
While the Nigerian masses scrutinize the annual budget, no one watches a larger NNPC budget Baru swallows freely from. he awards billion dollar contracts at will with only select executive cabal witnessing.
Just N1 trillion out of less than 30% total oil revenue in Nigeria's budget is what Buhari shouts his paltry infrastructure development based on. An equal 30% is still looted from oil source by Buhari's friends, the new and old oil cabal.
Nigeria is in heavy debt. Buhari has borrowed billions for petty projects while 10x what he borrows is still being looted from source. It is pathetic. This is why the cabal sponsor the violence, to distract us from this hungry reality!
Atiku will not close the looting, After he spends the $3 billion to win the election, he will loot $10 billion a year as Buhari's men are and refill his pockets.
*Buhari's Plan Is To Hand Over To His Brother Atiku*
Buhari had a pact with Atiku to hand over to him. Buhari is fulfilling it. Buhari and Atiku are bedroom buddies. The duo and rest elite cabal have decided to keep the youth submerged by ensuring power remains with either one of them and the same crew of looter cabal. We are witnessing no election, just a retention of power with the same crew.
And we will never unite to revolt.
When the south, MEND fought, we denounced them mumuishly.
When the east, IPOB fought, we denounced them mumuishly.
When the people of Benue rose up, we turned away.
When the people of Jos rose up, we were on Facebook.
When the north, Shia fought,we denounced them mumuishly.
And so, every time we have a chance to have our revolution, we use ethnicity and sectarianism to denounce the brave and remain colonized slaves. Unna well done. Army and police will never kill a cabal. A terrorist will never kill a cabal. Fulani herders will never kill a cabal. Na unna go dey die dey go.
Nigeria will never recover because rather than join the oppressed and fight the murderous cabal who loot $30 billion every year, PDP in, PDP out, APC in APC out, we kill ourselves and dance when the brave shia who dare to resist and fight bullets with stones are killed.
Divided WE DIE! Mekunu, death is your portion!
– Dr Perry Brimah; @CabalMustGo
en
SOURCE :The Nigerian Voice (opinions)