Nigeria does not need restructuring: Gov Rochas Okorocha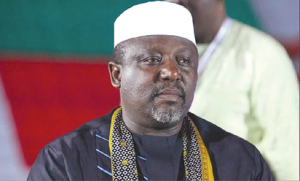 Governor Rochas Okorocha of Imo state has broken away from the position of the South East people, who have been canvassing for a fundamental restructuring of the country along regional lines to enable each region to develop at its own pace.
Okoroacha said that the country did not need any restructuring, but rather what he called repackaging to make it more attractive to the outside world.
 The Governor was quoted to have made the statement by his Chief Press Secretary, Mr Sam Onwuemeodo, at the 67th Annual Conference of the Broadcasting Corporation of Nigeria, BON, in Owerri.
Okorocha hinged his proposition on the fact that the  different groups in the country have diverse view of restructuring.
The statement reads in part,  "Governor Rochas Okorocha has called on proprietors and managers of the Radio and Television Stations in the country operating under the aegis of Broadcasting Organization of Nigeria (BON) who are meeting in Owerri for their 67th Annual Conference.
"To help repackage Nigeria for consumption by the rest of the world because that is what is needed now and not restructuring. "He also asked them to come up with programmes that could allow the less privileged in the society who cannot afford the high cost of electronic media to also be heard. Our nation requires repackaging. It is unfortunate that a great nation like ours has not been properly packaged for consumption by the international communities.
"Yet, there are more evils in other nations than we have in Nigeria but the reports going out about our country is such that no one will want to come into Nigerian unless for those who want to take risk. No nation can grow with this arrangement. I want to charge you today, as you meet, think Nigeria and see how you can repackage it. We are not the worst of them all.
"Every geo-political zone has its own interpretation of restructuring. To the South-East, restructuring means creation of an additional State. "For the South-South, restructuring means resource Control. For the South-West, it means devolution of power and the North may see it differently, but whatever is the Case, we are better of, as a United Nigeria.
"The ball is in your court to see how you can project Nigeria and repackage it for public and international consumption. "Let me say to all of us here that there is nothing wrong with Nigeria and Nigerians. Nigeria is a great nation and will ever remain a great nation."
en
SOURCE :The Nigerian Voice (politics)