Nigeria Olympics Committee President Habu Gumel Receives Nigerian Water SKI and Wakeboard Federation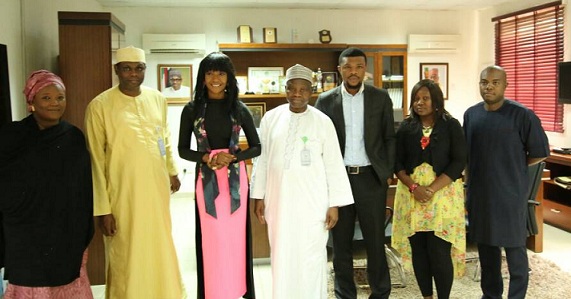 Source: Nathan Nathaniel Ekpo/Nollywoodgists.com
A free facility is on its way courtesy of the International Water SKI and Wake board Federation (IWWF) and NWWF's German Co- Founder/ Patron Mr Uwe Goldstein.
Following the warm reception of some of the official of the NWWF by the Nigeria Olympics committee (NOC), President Engr. Habu Gumel In His office in Abuja, Nigerians are set to witness the waters ready for NWWF Soon.
Remarking on the meeting and the present trend of the federation, the Founder and President, Amb. Rachel Bakam revealed that the recession had caused a set back in establishing facilities for this sport that was once alien. Due to how expensive a facility is with the exchange rate and many other factors, progress was stalled for a while but with appeals to the international federation, the IWWF has agreed to construct one free facility to inspire others and serve as a training ground.
A Patron of the NWWF Engr. Habu Gumel has guided the federation as to how to acquire the right location for this facility. Jabi Lake Abuja is the an ideal spot. He graciously gave a letter of endorsement to make this location accessible for a temporary facility while the federation works towards acquiring plots of land from the FCDA for a permanent facility which will open doors to host international championships and harness Nigeria's Tourism potential. Mr Fred Onwe an Official of the Federation remarks enthusiastically that Nigeria can't wait to participate in international competitions.
Amb. Rachel called on investors to buy into this lucrative profit making venture which will also add great value to Nigeria's economy and image by way of opening doors for Tourism and more representation in Sports.
en