Nigerian Army Denies Receiving $1 Billion Approved by the President to Fight Insurgency in North East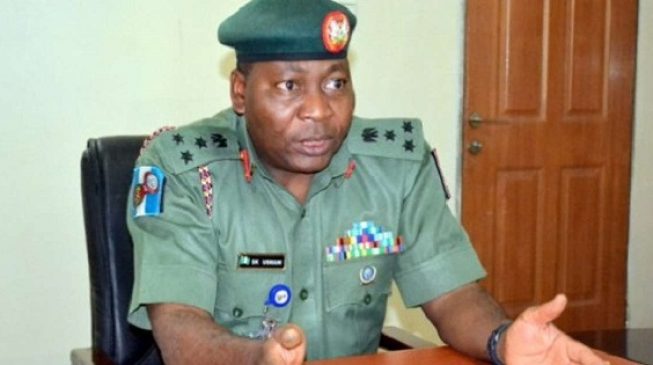 By Ahmed Abu, The Nigerian Voice, Maiduguri
The Nigerian Army has said that it is yet to access the $1bn approved to fight insurgency and security challenges in the country
Brigadier General Sani Usman, the Nigerian Army spokesperson and Director of Army Public Relations said in Maiduguri yesterday that the money is still being processed.
Usman however said that Nigerian Arny has been judiciously using what it has been able to procure since 2016 to date in the fight against insurgency and other violence across the country
According to him, " Nigerian Army is yet to get the $1 billion approved to tackle terrorism and other security issues in the country."
It will be recalled that the National Economic Council (NEC) in 2017 approved the request of President Muhammadu Buhari-led federal government to withdraw $1 billion from the Excess Crude Account (ECA) for the fight insurgency.
Speaking to newsmen recently, the Nigerian Army spokesperson, Brigadier General Sani Usman, revealed that the money is still being processed.
He said: "People should understand also that this is a democratic system in which procurement and of course funding of defense related issues takes such a long time."
"Take for instance the issue of the $1 billion approved recently by Mr. President, up till now the process is ongoing. The ministry of defense is still pursuing the matter to the point that when it is done, the armed forces will definitely get more equipment, more arms and ammunition."
Similarly, the Senior Special Assistant on Media and Publicity to President Muhammadu Buhari, Malam Garba Shehu had said that the president's approval was not final as a draft bill would be sent to the National Assembly (NASS) for consideration.
Usman further explained that what the Nigerian armed forces have what have been procured since 2016 which is being used judiciously.
He said: "To the best of our abilities, all the necessary equipment, ammunition and arms are being given."
He also regretted the recent killings of soldiers in Metele village of Guzamala LGA of Borno state , pointing that, legal action would be taken on those giving fake figures about the death toll.
"So sad and unfortunate that our troops came under enemy attack on the 18th of last month and we suffered causality as we mentioned. Sadly, we lost 23 gallant officers and men and of course some of them sustained injuries.
"In respect of the effort, we are trying as much as possible to make sure that first and foremost we give timely and accurate information on all our activities and operations bearing national security concern.
"And then secondly, we have gone a step further to identify where those fake news and fabricated stories are coming from, and definitely our legal department is taking steps to make sure that all those involved would be taken to court," Usman said.
He further said that the COAS, Lt. Gen. Tukur Yusuf Buratai and his team have been going round to meet with the troops in several locations.
However, the Nigerian Army said it had finally identified those who spread fake death toll on the Boko Haram attack on Metele village which claimed the lives of some soldiers.
It also said that it is currently pressing legal charges against the culprits, adding that the suspects were collaborating with terrorists in order to cause national unrest and rubbish democracy in the country.
en
SOURCE :The Nigerian Voice (local news)