Nigerian Army University To Access Quality Education in North East… Buhari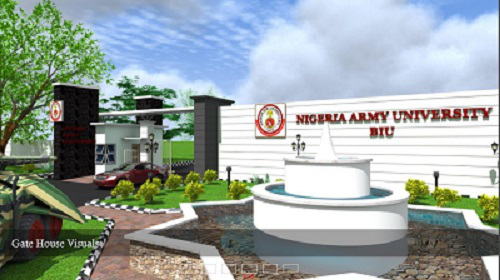 By Ahmed Abu, The Nigerian Voice, Maiduguri
President Muhammadu Buhari has said that the rationale behind the establishment of Nigerian Army University Biu (NAYB) was to expand access for the teeming Nigerian youths to have quality education.
He added that the Nigerian Army University Biu (NAUB) was the latest university to be established by the federal government in the past three and half years of his adminstration after the Maritime and Air Force Universities.
Buhari stated this Tuesday in Biu town during the ground breaking, foundation Stone laying and launching of Green Initiative of the Nigerian Army University Biu (NAUB).
He noted also that one or the reasons behind establishing the university was to improve to the standard of education in the north east and country at large as well as provide access to education for all Nigerians.
The President who was represented by the Minister of Education, Malam Adamu Adamu said his government had increased access to education in the country with the establishment of new 8 public universities and 15 private universities including the Nigerian Maritime and Nigerian Air Force apart from giving approval to various polytechnics and Monotechnics for the awards of several degrees.
Buhari said also that NAUB is for every Nigerian unlike the NDA which is only for the soldiers, stressing that, the Army university is expected to be the best green university in Africa and expected to give admission to 75% civilians and 25% military and paramilitary personnel.
He added that the university will further serve as center of excellence for Nigerian military, equipment, research, intelligence, weapons production and ICT for advanced science and technological studies and researches.
The President however commended the Chief of Army Staff (COAS), Lt. General Tukur Yusuf Buratai for his commitment and seeing to the a actualization of the vision and mission of the university to be established while considering the event as timely and Waterloo for the preparation of the 21 st century Nigerian Army.
Buhari also noted that the Nigerian Army has been in the forefront of restoration of peace in the north east region and strategizing in reequipping the gallant soldiers while expressing confidence that NAUB will increase training of youths and exposure of the Nigerian youths and army in terms of leadership.
He reiterated that leadership requires trustworthiness, intelligence, discipline courage and royalty while congratulating the Nigerian Army for successfully establishing the university and wished the Nigerian Army successful management of the university.
President Buhari thanked the people of the north east and country at large for their support and understanding with his government in the past three and a half years while commending the Nigerian Army for protecting the sovereignty and integrity of the country and pledged to revive the economy despite the daunting challenges and criticisms of his government policies and programmes by some Nigerians which have been in the overall interest of the battered economy by previous administrations.
en
SOURCE :The Nigerian Voice (local news)