Nigerian Politicians' Advisers Must Be More Discreet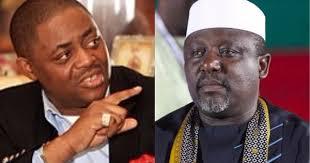 Femi Fani Kayode, a two-time minister of the Federal Republic of Nigeria and the controversial Governor of Imo State and Chairman of All Progressive Congress (APC) Governors' Forum, Rochas Okorocha, have frequently been in the media these days for the very wrong reasons. The raging bout of heavily-worded, mostly unguarded personal attacks between Rochas Okorocha's team of advisers and those of Femi Fani Kayode has now become a boring, embarrassing weekly ritual. Many Nigerians I spoke with think the "war" is getting out of hand and must be stopped immediately.
Those who must speak for Nigerian politicians should begin to avoid attacks that border on individual persons and focus on the things that bring or would bring Nigerians together, not those things that will tear them asunder as they take sides. That is what makes democracy tick. That is the type of political angle that attracts the respect of the international community. And we cannot continue the way we are all going as if we didn't know that the international community exists.
In a post in the Sun newspaper weeks ago, for instance, Governor Okorocha was said to have taken a swipe at Mr Fani Kayode because he had said the images depicting the visit of the All Progressive Congress (APC) governors to President Buhari while he was in hospital in London were fake and that Okorocha, who conveyed the message, was a liar. As a result, many Nigerians were said to have doubted the authenticity of the photographs.
In a country endowed with so much mineral and solid mineral resources and yet so many citizens are dying daily of hunger and poverty, should the photograph of ministers visiting their President in his sick bed become so controversial as to create all the bad blood, or is it a way the politicians want to distract the masses from coming to terms with the harsh realities of their lives and circumstances?
Okorocha swiftly reacted to the statement, dismissing Kayode as a spoilt child. The Governor's Chief Press Secretary, Sam Onwuemeodo was quoted as saying: "this guy (referring to Fani-Kayode) is a spoilt child, one of those whose parents so over pampered that they hardly talk like human beings. Apart from somebody who went into government, he is not known for doing business. I wonder if he has ever worked and all of a sudden he had a political appointment. He has nothing else to brandish apart from the father's name. Remove his father's name; I don't think he is a human being. Rochas grew from the scratch. By the grace of God and hard work, he is where he is today. But that one (Kayode) apart from coming into politics, what else does he have to brandish?"
Fani-Kayode's Special Adviser on Media, Jude Ndukwe, writing on behalf of his principal described Okorocha's action as "a sign of desperation to serve the evil purposes for which he had been procured."
"This is true to the character of Okorocha, who is well known for his garrulousness which he ridiculously mistakes for oratory, with which, unfortunately, he has been misleading the good people of Imo State," he wrote. "Okorocha is nothing but a dirty, cheap, fat, ugly frog that mistakes himself for a monkey simply because he can hop. He is one man who serves and defends a president and government that have murdered, insulted, marginalised and humiliated more of his own Igbo people than any other government in the history of Nigeria outside of the civil war.
"For a man whose party has unprecedentedly threatened to arrest the moment he steps out from the immunity he currently enjoys, Rochas should actually be hiding his head in shame when men like Fani-Kayode are talking. Uche Onyeagucha, an APC chieftain and a former member of the House of Representatives, has accused Okorocha of lying serially when he said he had spoilt Imo people with projects, when in fact, Rochas has only littered the state with a plethora of abandoned projects, most of which exist only on paper.
"A man who deceitfully created a phantom Imo Air that soon disappeared into thin air without any notice after it was commissioned with so much pomp and circumstance, does not deserve any serious attention. His deceit and cruelty have since been confirmed by Imo people, and his vicious credentials qualify him for a regular mental check.
"The truth of the matter is that Fani-Kayode and Rochas are not in the same class. Imo people thought otherwise but today they know better. Our joy for them is that 2019 is just around the corner. They will surely kick him out, and his emptiness would be exposed.
"Chief Femi Fani-Kayode himself needs no introduction. A Cambridge-trained lawyer who was called to the Nigerian Bar in 1985, he practiced law in the firm of Kayode & Sowemimo before he ventured into politics where he rose to the peak of his career, becoming a two-time minister of the Federal Republic after being appointed the first ever Special Assistant on Public Affairs to the President of the Federal Republic of Nigeria.
"The import of all these is that Rochas has no history backing up his claim to fame today. He is alleged to come from an unknown root as his paternity is believed to still be very much in doubt even in Imo State."
Not yet done, the former minister struck again even more deeply through this media adviser. Ndukwe was said to have described Rochas Okorocha as a pig and an old villager, who does not have any integrity. He said Okorocha should be seeking forgiveness from God after betraying Igbo people and his elders.
Okorocha's Chief Press Secretary, Sam Onwuemeodo took it from there and defined the statement credited to Fani-Kayode as an unintelligent, unprovoked and unwarranted media attack against his principal.
In his response, Fani-Kayode's adviser said Rochas is obsessed with his principal and that he (Rochas) was looking for cheap popularity. He said: "instead of respecting himself, shutting up and seeking for forgiveness from God for betraying his Igbo people, addressing his elders and betters in an inappropriate and insolent manner and playing the fool, the village idiot called Rochas Okorocha has once again fouled up the public space by opening his dirty mouth and talking about Chief Femi Fani-Kayode, the former Minister of Culture and Tourism and former Minister of Aviation. This time around he talks about FFK not having what he calls "native sense" and he goes on obsessing about his distinguished family, privileged upbringing and noble lineage.
Clearly Rochas is obsessed with FFK and he has come to appreciate the fact that there are some things, like class, a good lineage and integrity that money cannot buy. They say a pig that wears lipstick remains a pig. And that is precisely what Rochas is: a filthy, greedy and conscienceless pig who does not know when to shut up. He has no decorum, no finesse, no decency, no class, no education and no integrity. He is a primitive and bush villager of questionable paternity whose father remains unknown even to his mother. If he is truly a man and not the animal that we know him to be, let him come on a live television show with FFK to debate these issues including his sordid and filthy history and background and then Nigerians can decide for themselves who really has "native sense" between FFK and him. We repeat that a man who constantly speaks up for and supports a government that consistently slaughters and routinely massacres his own Igbo people can only be described as a sociopathic self-hating Igbo who is suffering from a terrible and debilitating inferiority complex. He was born a slave and he will die a slave. Attempting to compare himself to a courageous, well-educated, refined, confident, attractive, successful and well-bred man like FFK is like comparing fine wine to toilet water. Rochas is scum and nothing more than scum. When he finishes his tenure as governor he will crawl back into the filthy cesspit and hole from which he came."
"FFK was never a ritualist, a cultist, a 419er, a sodomite, a traitor or a dirty and unreliable street urchin and scammer. He never ruined the lives of millions, bowed before strange gods and slept in coffins to make his money. He never sold his soul to the devil or his body to reprobate men who lust for other men in return for money and power. Unlike Rochas FFK frowns upon such things and comes from a noble heritage and a spiritually clean and strong foundation. Rochas knows where he has soiled his hands and what the source of his power and wealth is. He has much to answer for and the evil spirits that, by his own admission, have been tormenting him ever since he became governor will soon take their pound of flesh. The sword of the Lord is poised to strike and the judgement of God awaits him for his many indiscretions and sins."
One very important fact these media advisers to public office holders must know is that all this stuff like calling a sitting governor, no matter his level of performance, "scum", "village idiot" and "pig" does not impress any reasonable person. In a very profound sense, what is happening now has its roots in my recent article titled "Rehoboam Syndrome and the Reform Nigerian politicians have to make" and published in the Modern Ghana newspaper of 6 November 2017, and in other media. It simply buttresses what I expressed in that article. Rehoboam took the advice of his fellow youths not to show any sign of weakness to his subjects and that cost him so much that out of the twelve tribes of Israel, he secured only two while ten tribes went with his father's worker, Jeroboam.
It is obvious that in their anxiety to paint the images of their principals dazzling white, these younger advisers have gone a reasonable distance in making their principals look immature, irresponsible and even ridiculous in the eyes of the international community. That is why I recommended that public office holders should look for people who are older than themselves to make their advisers. Those older ones will not be after their own pockets. They will take their assignment seriously and advise their principals in a way that will mean well for their political careers. Then there will be no need for all this 'who was his father' stuff.
Who was Barack Obama's father for him to become the first Black American President? His father was known to be brilliant. Yes. He was said to be doing his PhD before he died in a motor accident. Yes. He was an unrepentant drunk. Yes. He was Kenyan. And he had no decent house in Kenya. But that didn't stop his son to aspire to be greater than his father. So, what if Okorocha's father is not an Imo man? Does the Nigerian constitution specify that a governor must be an indigene of the state he wants to govern? What about states like Lagos where people who are not born in them have become public office holders?
In a true democracy, the lowly birth of a citizen should not pin him down to poverty or handicap. That is why we say that poverty is not condemnation, it is a challenge. That is why we also emphasize social mobility. Talking about class, it is important to note that Nigerians have several social classes. They have the working class (who are never paid as at and when due). They have the political class. They have the unemployed class. They have the bourgeoisie class who don't work but earn better salaries than those who work. And they have the business class and the handicapped class. So, which one are talking about here? Because it is pretty obvious that Okorocha and Fani Kayode both belong to the political class.
Again, it will be wrong to assess Okorocha's performance without putting the achievements or non achievements of his predecessors in the equation. He can only be fairly assessed in comparison with the achievements of those who were there before him. Taking him in isolation and attempting to assess his achievements is not only uncharitable, I think it is a travesty of justice.
Now, what many of us senior citizens would expect the media advisers to be doing is concentrating on how to win the confidence of the electorates, come 2019. Many Nigerians are starving. It is not easy to know that. But even before I went to Nigeria on vacation, some isolated incidents revealed that to me. First was the security officer in my country home. One night, his daughter phoned me in England and complained that her mother was very ill. She was vomiting and stooling blood. I told them to take her to my family doctor who had been requested by me to give them prompt medical attention each time they were ill and to direct the bill to me. The young girl said they had no money to send the woman to the hospital. I asked them how much we were looking at. They said one thousand naira. I had to send them four thousand naira from UK to take the woman to the hospital. That is the sort of level of poverty that is muscle-flexing the country and most of its citizens. If I hadn't sent money, perhaps the woman would have died from her illness, who knows?
Even this morning, I went to the cash point to get some money. The woman before me wanted to withdraw four thousand naira. She didn't have that much in her account. She reduced it to three thousand naira and yet there was no money. She reduced it again to two thousand naira. Yet there was no money. By this time impatient people queuing up behind her began to swear at her for wasting their time. And she burst into tears. I was so moved, but what could I do? That is the national spirit!
Talking about preparations for the 2019 elections, the Peoples' Democratic Party (PDP) needs to see itself as the shadow or alternative government. As far as it is visible, the PDP is not playing that role well. Let them do some research. Let them ask questions. What do the people want? Put a questionnaire across to them. What are their priorities? Do they want more houses at local and state government levels? Do they want better roads leading from rural farming to urban consuming areas? Do they need better markets and stalls? Do they desire better education for their children? Are they in greater need of career training? Are they in need of better medical facilities? Is drinking water their major problem? The organisers of the opposition or shadow government should go from ward to ward to find out where the interests of the voters are. Then they should come up with how they intend to address these concerns in event they win the confidence of the electorates. With these facts they can also challenge the ruling APC and make the people see the difference in changing for better or for worse.
Having said this much, I sincerely hope that media advisers to the political class in Nigeria would see reason to stop all these attacks on the persons of public office holders. They should be discussing issues and ideologies relating to their parties or offices, not pouring vituperations on individual public office holders which will back fire when people learn to read between the lines. They should initiate conversations in which both sides will showcase what they have in stock for their various communities. And if they must speak for their principals next time Nigerian politicians' advisers must be more discreet.
en
SOURCE :The Nigerian Voice (opinions)