Nigerians should sit down and brainstorm on way forward: Sultan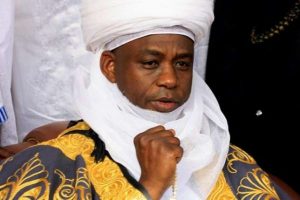 The Sultan of Sokoto, Alhaji Saad Abubakar has attributed the secessionist agitations in the country and the counter responses as symptoms of rot in the Nigerian system.
Receiving Rivers State Governor Nyesom Wike, who paid him a Sallah homage on Tuesday, the Sultan said: "In the past, a lot of things were done by some people with impunity and nothing was done.
"That is why you find lack of good governance now weighing us down now in the country.
"However, as it is now, no matter how bad your hand is, you cannot cut it and throw it away."
Alhaji Abubakar stressed the need to use dialogue to resolve all the misunderstandings and problems in the country.
The royal father said Nigerians should sit together, brainstorm, look at what went wrong, retrace their steps and move forward.
The Sultan also appealed to statesmen in the nation to intervene and assist in that direction.
According to the monarch, "we are not short of statesmen across the country and they should help in championing the dialogue."
"We should not allow sentiments to rule our heads. Nigeria is a very big and lucky country and we have no any other nation we can call our own.
"We should love one another irrespective of any religious, ethnic or cultural differences." the Sultan admonished.
He extolled the developmental strides of Governor Wike, as well as his existing relationship with the Muslim community in his state.
Earlier, Governor Wike had said that the people and government of Rivers State believed in the indivisibility of Nigeria.
He averred that there were better ways to solve the agitations and problems of Nigeria, rather than pondering on a break up.
"Rivers and its people believe in the oneness and unity of Nigeria and that is our stand.
"The Sultan is a father to all Nigerians and he is a peace builder in Nigeria and beyond.
"We have also been friends with (Sokoto State Governor Aminu) Tambuwal since and before his emergence as Speaker, House of Representatives and this will be sustained in spite of party differences." Governor Wike averred.
Governor Tambuwal, who accompanied Governor Wike, had earlier said that the visit would not have come at a better time than now, and restated his belief in the unity of Nigeria.
The Governor said that the visit would help to strengthen the bond of unity between the two states. (NAN)
en
SOURCE :The Nigerian Voice (politics)