Nigeria's Rich Geographical Indications (gis) Products Face Imminent Threat.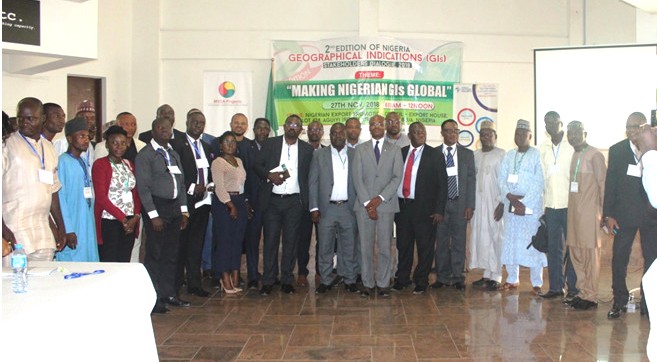 At the 2nd Edition of the Nigeria Geographical Indications (GIs) Stakeholders' Dialogue which was held in Abuja, Nigeria on the 27th of November, 2018, government's attention was drawn to the threat faced by Nigeria's rich Geographical Indication (GI) products.This 2nd stakeholder dialogue is part of the "Making Nigerian GIs Global" project master plan which is to deepen the conversation and continue the technical capacity development process on the concept of Nigeria GI, among stakeholders in Nigeria.
Stakeholders at the dialogue who included government, private sector, development partners, civil society organisations, researchers, the media and a host of other stakeholders observed that the absence of a GI system and protection mechanism of the intellectual property right of products of Nigerian origin has made it difficult to tap into the huge benefits the Nigeria's GI products offer to the local and international space.
GIs apply to products that preserve local cultural practices and traditional knowledge in the production value chain, due to their territorial reliability and source of origin. GI products provide revenues and pride to millions of producers and SMEs around the world. These products preserve the culture of producers in the production value chain and play a key role in the sustainable development of the local communities. In Nigeria, there are so many products that are qualified to be considered as GIs products, which unfortunately are yet to be rated, due to lack of basic infrastructure, information and legal frameworks.
In his opening remarks the Registrar Trademarks, of the Federal Ministry of Industry, Trade and Investment,ShafiuAdamuYauri (Esq) says the economic importance of geographical indications and their use in commerce in a modern, knowledge-driven market economy is not yet greatly appreciated.
"It is worthy to emphasize at the outset that without Geographical Indications protection, Nigeria cannot maximise its potentials in the sale and marketing of its highly prized and rich agricultural and other cultural products."The Registrar warned that failure to protect the nation's GIs will give room for abuse and possible loss of such rights.
"Wherever products are not protected by means of geographical indications, such products initially have no "geographical" market identity and are also deprived of benefiting from the goodwill associated with geographical indications and they remain open to abuse or exploitation by others".
Europe has over 4,000 GI products while China alone has about 2000 products. China reached this achievement by identifying her area of comparative advantage. This Nigeria can also do and there exist very reach potentials that can make this possible.
The Founder and Chief Executive Officer (CEO) of the International Centre for Development Affairs,Dr. Osita Aniemeka emphasizes that getting a legal framework for the protection of GIs of Nigerian origin is not a difficult task.
"You cannot do anything without the input of Government. However, Government must take the lead by aggregating stakeholders, such relevant government agencies and CSOs that have been advocating for GIs in the country to draft a policy framework within a period of six months".Because dependency on oil alone as the driver of the Nigerian economy is not sustainable, it has become imperative that other sources of income are explored.
"Ministry of Petroleum's report shows that there was oil fall in October, 2018 as both growth in output and new orders lost momentum, giving impetus to increased need forthe country to diversify its economy as well as adhering to standardization compliance with global trade protocols, which evolve sustainable international market for products of Nigerian origin". Dr Osita explains.
Those who should be the drivers of the process for formulation and implementation of a Nigerian GI framework for the country are mostly unaware of what GIs are as well as the benefits to the Nigerian economy, and rural development.
This lack of information about GIs is not peculiar to Nigeria alone but a host of African counties, as well.
"Africa has fallen behind and allow the rest of the world to take advantage of those products which were originally from Africa and once you lose your GI rights, it is almost impossible to have them back because they become legally registered by another country as this will have a diplomatic dimension", says the Executive Director of Africa International Trade and Commerce Research, Mr Sand Mba-Kalu.
GOING FORWARD
The contemporary situation of Nigeria's economy, which has been accepted by the government to be poor, has necessitated the need for the country to diversify her economy. A key step towards this is the move to standardization in compliance with international trade protocols, especially in the area of Nigerian Intellectual Property Right, of which GI is a component, for products connected to a local origin. Africa International Trade & Commerce Research (AITCR) and MSCA project, have jointly developed and initiated a 10 years strategic master plan of Making Nigerian GI Global project that will ensure the current policy drive of the Government of Nigeria should evolve sustainable international market for products of Nigerian origin, backed by 21st Century IP policy for Nigeria. This will support Nigeria position when negotiating bilateral, multilateral, EPA, Africa Continental Free Trade Area (AfCFTA) agreements, etc. It is expedient stakeholders key into this broader strategic approach to establish the necessary framework for the Nigerian Geographical Indications (GIs), through the"Making Nigerian GI Global Project"
Brief about the CONCEPT OF MAKING NIGERIAN GEOGRAPHICAL INDICATIONS (GIs) GLOBAL PROJECT
The Making Nigerian GI Global Project is a 10 years strategic plan that aims to ensure the required processes and requirements are duly done to have products of Nigerian origin classified as GI both for the local and global market. Specifically, the goal is to ensure through advocacy stakeholders are fully aware, knowledgeable and responsive to the concept of GI in Nigeria, through capacity development, legal framework, and researched database on Nigerian GI products, a national policy, regulatory institution, documentation, international protocols, and also Nigerian GI products are considered as economic, bilateral and multilateral negotiation tools. The master plan will ensure a competitive environment characterized with required infrastructure that will support GI agricultural and other products are available to make them thrive. The ultimate aim is to ensure we standardise, and protect the processes of 100% Nigerian traditional products so that producers of will have origin GI label on their products. This will be a massive opportunity to move away from commodity markets into a more lucrative niche markets through differentiation that will guarantee wealth, job, investment, economic development and growth for rural communities across Nigeria.
en
SOURCE :The Nigerian Voice (local news)