Nnamdi Okonkwo Led Fidelity Bank Plc Loses Depositor's N7.4 Billion To Fraudsters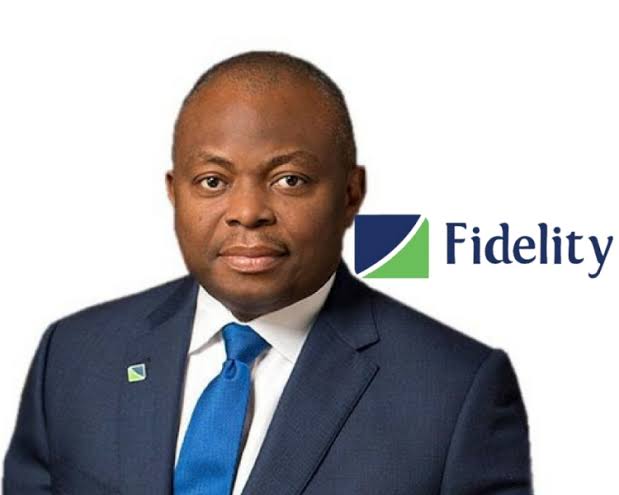 The Managerial skills of Mr Nnamdi Okonkwo, Managing Director of Fidelity Bank Plc, has again come under interrogation because of the ease at which a whopping sum of N7.4 Billion Naira of depositors' money was fleeced out of the Bank by fraudsters under the disguise of a loan.
A recent case at a Lagos High Court where two alleged fraudsters were arraigned for obtaining by false pretence, the sum of N7.4 Billion from Fidelity Bank Plc under the leadership of Nnamdi Okonkwo. Banking industry observers and watchers are yet to come to terms with such mind boggling riddle that have engraved mistrust in the minds of some of their customers.
The suspects, Mr Ogbor Kehinde Eliot and Mr Kelvin Ejere Chris were arraigned by the Economic and Financial Crimes Commission (EFCC), alongside a Company, Danium Energy Services Limited before Justice O.A. Taiwo of the Special Offences Court sitting in Ikeja, Lagos.
They were brough before the Court on five count charges bordering on conspiracy, forgery and obtaining by false pretence.
The defendants were alleged to have fraudulently deceived Fidelity bank Plc into lending them money through a fraudulent scheme with the pretence to finance local purchase of Automotive Gas Oil (AGO), otherwise known as diesel, for supply to Total Nigeria Limited.
The first defendant, Mr Ogbor Kehinde Eliot an alleged prominent fraudster, allegedly used his company, Danium Energy Services Limited, to obtain the facility from the bank and was said to have defaulted in repayment, which was expected from the proceeds of sales of the imaginary petroleum products by Fidelity Bank.
One of the counts reads: "That you, Ogbor Kehinde Eliot, Kelvin Ejere Chris and Danium Energy Services Ltd., sometime in February, 2016 in Lagos within the Lagos Judicial Division, with intent to defraud, conspired amongst yourselves to obtain the sum of N7.4 billion by false pretence from Fidelity Bank Plc."
Another count reads: "That you, Ogbor Kehinde Eliot, Kelvin Ejere Chris and Danium Energy Services Ltd, on or about 23rd of February, 2016 in Lagos , within the jurisdiction of this Honourable Court, with intent to defraud, induced Fidelity Bank Plc to deliver to Danium Energy Services Ltd the total sum of N7.4 billion under the false pretence that Total Nigeria Plc Purchase Orders (PO) with Reference No. OPS/SUP/02/16/330 and OPS/SUP/02/331 dated 3rd of February, 2016 contracted Danium Energy Services Ltd to supply 20,000 metric tons of Automotive Gas Oil (AGO) in two tranches of 10,000 metric tons each valued at the aggregate sum of N7.4 billion and you thereby committed an offence contrary to Section 1(b) of the Advance Fee Fraud and Other Fraud Related Offences Act 2006 and punishable under Section 1(3) of the same Act."
However, both defendants pleaded not guilty to the charges when it was read to them. In view of their pleas, the prosecution counsel, Idris Mohammad, asked the court for a trial date.
However, counsel to the first and third defendants, Ladi Williams (SAN), as well as counsel for the second defendant, Dennis Omorojo, informed the court of applications for bail on behalf of their clients.
After listening to both parties, Justice Oluwatoyin Taiwo asked the prosecution counsel why he did not oppose the bail applications.
In his response, Mohammad told the court that he intentionally did not oppose the applications so as to allow the first defendant to attend his trials in other courts.
Justice Taiwo then stood the matter down for ruling on the bail applications.
In her ruling a few hours after, Justice Taiwo granted the defendants bail in the sum of N10 million each with two sureties each in like sum, adding that the sureties must be civil servants on Grade level 16. She said they must provide known addresses, which must be verified by the court.
The sureties are also expected to deposit with the court registrar, their Permanent Voters Cards, National Identity Card or International Passports.
The Judge ordered the defendants to be remanded in the EFCC custody pending the perfection of their bail conditions.
However, the prosecution counsel prayed the court not to remand the defendants in the EFCC custody, stating that the EFCC custody was congested and, therefore, would not be able to accommodate them.
Efforts to speak Mr. Charles Aigbe, Divisional Head, Marketing Communications of Fidelity Bank proved abortive as calls placed to his mobile lines were not responded to as at press time.
en
SOURCE :The Nigerian Voice (business)