Normal School Life To Resume In IDP Camps In Delta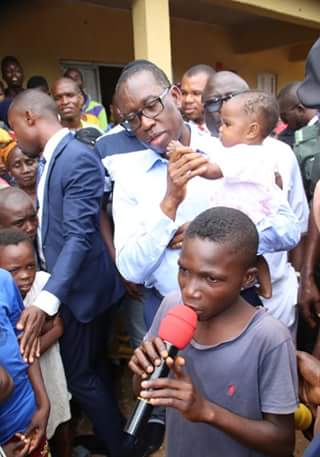 By Kenneth Orusi, The Nigerian Voice, Asaba
Modalities are currently being put in place by the Delta State government to ensure that school life resumes soon at the various Internally Displaced Persons (IDPs) camps across the state.
In a post by the Commissioner for Information Patrick Ukah, on his facebook page, revealed that the state governor, Ifeanyi Okowa, has directed the Ministry of Basic and Secondary Education to organize academic activities for school children who have temporal shelter at the different camps as a result of flood which has submerged riverine communities in the state.
According to Ukah, the governor made the disclosure Thursday during an interactive session with children during an unscheduled visit to camps set up for persons displaced by flood.
According to the governor, "I have listened to you (children) and your major concern is how to be engaged academically in the camp which is very good, the Commissioner for Basic and Secondary Education is already working on that; it is very important that the children are positively engaged in an organized manner.
"I have gone round the camp and noticed that people among you are cooking your food, it is a good development because, you must live as one united family, show love to one another", stressing that as a government, the welfare of the IDPs is government's greatest concern, "apart from providing necessary amenities, we have mobile clinics that are well equipped to cater for your needs", he assured the IDPs.
He continued: "our major concern is to save life, we know that you have lost a lot to the flood, don't despair, we will do our best for you to be comfortable while in the camp and also see that you are properly settled after the flood, be prayerful and believe that you are not abandoned by God".
Governor Okowa who cuddled some of the children at the Camp informed them that the trying times brought about by the flood would soon be over.
The Commissioner for Special Duties, Barr Ernest Ogwezzy, took the governor round the facilities at the Camp and the governor gave words of encouragement to the people at the different departments he visited at Oneh and Ogbe-Afor Primary Schools in the state capital.
en
SOURCE :The Nigerian Voice (local news)