Northeast Governors Shuns Special Town Hall Security Meeting In Maiduguri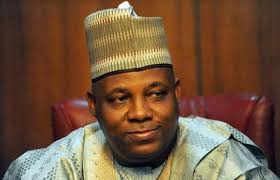 By Ahmed Abu, The Nigerian Voice, Maiduguri
The Northeast Special Town Hall security meetings which were held last Monday in Maiduguri was deserted, as none of the governors in the zone attended the meeting, leaving the host Governor Kashim Shettima only in attendance.
The meeting which was considered as timely and important was centered on the security challenges which have been bedeviling the region from 2009 to date and its attendant humanitarian crisis.
Source hinted our correspondent in Maiduguri that the reason why the governors did not attend the meeting was due to the dominance of Borno government's poor coordination and publicity by the state commissioner of Information Dr.. Mohammed Bulama who was the chairman of the local organizing committee.
Our correspondent who was at the meeting reports that none of the northeast Governors attended the meeting, except Governor Jibrilla Bindo of Adamawa state who sent his commissioner of Information, Alhaji Ahmed Sajo and Bauchi governor who sent his Special Adviser.
The source alleged that even the Yobe and Gombe state counterparts who were a stone throw away from the state did not even send a delegation due to poor relationship with governor Shettima.
One of the religious leaders who attended the meeting and pleaded anonymity said that he was disgraced by the so -called town Hall meeting, as the meeting was not only dominated by government functionaries in Borno, none of the traditional, religious and other stakeholders were given the opportunity to speak their minds in such an important security meeting.
It was also alleged that due to the poor coordination of the local organizing committee under the chairmanship of the Borno state Commissioner for information, Dr. Bulama, had no option than to abandon working journalists in the state and hired 40 Abuja based journalists who were hailbent to dance to the tune of Borno Government showcase few projects executed by governor Shettima in his almost 7 years tenure.
Sources also alleged that the meeting dd not discuss nor address the main agenda of the meeting which is "insecurity", as none of the military actors, religious, humantarian and civil society organizations were given the opportunity to speak, except, the Chairman Civil society organization, Ambassador Ahmed Shehu who was pre-guided before the occasion.
A resident of Yobe state, Mallam Garba Bukar said the reason why Governor, Ibrahim Geidam could not attend the meeting, was due to continuous domination of Borno state government under the leadership of Shettima, alleging that that whenever the issue of Boko Haram was brought , Borno state tried to dominate the issue claiming that it was the worst hit state at the detriment of its sister states in the north-east which suffered the same fate of devastating attacks.
en
SOURCE :The Nigerian Voice (local news)