OAUTHC health workers down tool as JOHESU declare nationwide strikeA�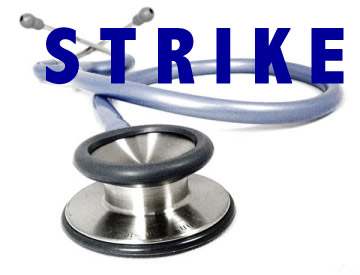 By Olawale Adewale, The Nigerian Voice, Osogbo
Health workers at the Obafemi Awolowo University Teaching Hospital (OAUTH), Ile-Ife, Osun State have joined the nationwide strike declared by the Joint Health Staff Union (JOHESU) over non implementation of a Memorandum of Understanding that the Federal Government signed with the union.
The President of Nigeria Union of Allied Health Professionals (NUAHP) who is also the National Vice Chairman of JOHESU, Mr Obinna Ogbonna in a chat with The Nigerian Voice called on Nigerians to prevail on government to meet the demands of the union as agreed.
Addressing members of the union at an emergency Congress held in Ife, Obina said the union decided to join the strike due to the failure of Federal Government to honour its agreement with the body.
Ogbonna said that Federal Government had on September 30, 2017 signed a Memrondum of Understanding with union on its demands and promised to implement the MoU within five weeks but failed to do so.
He explained that JOHESU's unions including National Association of Nigeria Nurses and Midwives(NANNM), Medical and Health Workers Union( MHWUN), Senior Staff Association of University Teaching Hospitals agreed to embark on the indefinite strike after the 30days working ultimatum given to the Federal Government expired.
"It will be recalled that JOHESU suspended its last nationwide strike action on September 30, 2017, after the signing of MoU with the union. For the avoidance of doubt, our demands are, upward adjustment of consolidated health salary structure(COHESS), employment of additional health workers, implementation of court judgement, upward review of retirement age from 60 to 65 among others.
"However, it is disheartening to note that after six months of the suspension our last strike and still counting, the Federal Government has not done anything tangible on the issues".
"JOHESU unions hereby direct all her members to proceed on an indefinite strike. States and Local Government health institutions are by this, placed on red alert and are to continue intense sensitisation and mobilisation of members for possible entry into the fray if the government foot drags in attending to our demands", he said.
en
SOURCE :The Nigerian Voice (local news)