Obasanjo's Letter: Grandstanding Taken Too Far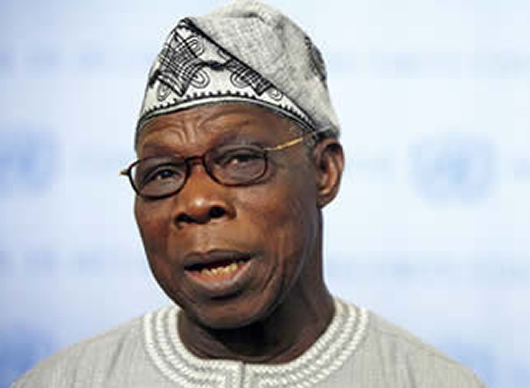 For fear of returning to prison following his culpability in the celebrated HARLIBURTON SCANDAL, Olusegun Okikiolu Obasanjo, is begging our NO NONSENSE President Buhari not to contest for a second term in office in 2019.
Like other PDP goons, OBJ has morbid fear for a Buhari's second term because he knows that like a LOOSED CANON our Daura born general will unleash himself for A TOTAL WAR on LOOTERS OF OUR COMMONWEALTH including the Odi invader.
OBJ knows well that a second term PMB will engage in a fight to finish against LOOTERS.
While his fellow accomplices who gave the scandalous BRIBE are in jail, OBJ is writing letters to cover his tracks in Nigeria, he must be reined in.
It is either OBJ has no shame, has forgotten his evil against Nigerians so soon, engaging in deliberate attempt to further insult our collective sensibilities as a people or both.
What INSULT: For a man whose Army invaded Odi Community, killed and maimed Nigerians without recourse to the sanctity of human life; a man whose Attorney General and Minister of Justice, Chief Bola Ige was murdered in cold blood and the alleged kingpin of the killers won election from Agodi Prison into the Senate to be given attention as to poopooh our intelligence, is to say the least schizophrenic.
Under Baba Iyabo, E.K. Dikibo was mowed down in broad daylight ditto Harry Marshall amongst so many others. In the case of Marshall the Owu – born consumate scoundrel was he who announced his death ascribing it to armed robbery attack as if the NPF abdicated it's roles to him.
Obasanjo who is notably the EXPONENT of 3rd term imported DO-OR-DIE and Garrison Command into our electoral lexicon should be called his real name – CONSUMATE SCOUNDREL. COALITION my foot. Would an OBJ in his regime allow for such notorious call for COALITION against his government without loosing his ATTACK DOGS – FFK & DOYIN OKUPE and by extention DSS on such fellow?
Now is when to obtain STATEMENT UNDER CAUTION from OBJ. FOR US NIGERIANS, POST 2019 PMB SHOULD END CORRUPTION AND IMPUNITY IN OUR BODY POLITY FOR ONCE. How he achieves it is not necessary but he must KILL THE HYDRA HEADED MONSTER CALLED CORRUPTION AND ANIHILATE WHOEVER SNUFFS LIFE OUT OF ANY NIGERIAN ANYWHERE IN THE COUNTRY.
Tony Ishiekwene
"The truth shall set you free"
en
SOURCE :The Nigerian Voice (opinions)