October 1, 1960: How Nigerians Ushered In Independence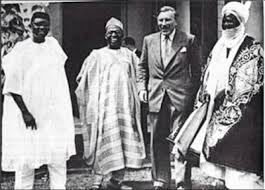 ON day like this, exactly 57 years ago, Nigeria was on a festive and historic mood. It was the eve of October 1, 1960, the day that the United Kingdom had set aside to grant Nigeria independence as a sovereign state. The political and social atmosphere was astir.
The reasons were not far-fetched given the dreams of the founding fathers – late Dr Nnamdi Azikiwe, late Sir Ahmadu Bello and late Chief Obafemi Awolowo among others as well as what the prospects of self-rule portended for the emerging black nation. Buhari Although, the then three regions -Northern, Eastern and Western had been administered by Nigerians, who superintended as premiers for six years, Nigerians could not wait to collect the mantle of leadership, at the centre, from the last British Governor-General of Nigeria, Sir James Robertson. It was thus not surprising that elaborate preparations were made, across the country, for the historic occasion. There was joy and anxiety as ululating Nigerians stormed the Tafawa Balewa Square (TBS) in Lagos to witness and partake in the celebration of the independence of Nigeria on Saturday, October 1, 1960.
In the jubilant crowd were students, cultural dancers, acrobats, masquerades and others who were all eager to add colour to the celebration. Policemen, in choreographed manner, fanned out in different but key places across the square to provide security. With memory-etching displays from the various groups and fireworks that lit up the sky, it was a wonderful sight to behold. The independence parties were not limited to the then capital city of Lagos in Western Region. Other parts or regions of the country also organised events to usher in independence, but that of Lagos was the biggest.
Then, only very few Nigerians had Television sets. So, to be part of the celebrations, many people headed for the Tafawa Balewa Square in Lagos and the regional capitals. According to Oldnaija, an online magazine, the celebration at the TBS kicked-off with the foundation-setting speech of the first Prime Minister of Nigeria, Sir Abubakar Tafawa Balewa, in which he expressed his joy and happiness for the newly liberated nation and her people. We are better-equipped for the task of nation-building – Tafawa Balewa Sir Tafawa Balewa said: "In these days of rapid communications, we cannot live in isolation, apart from the rest of the world, even if we wished to do so. All too soon it has become evident that for us, independence implies a great deal more than self-government.
This great country, which has now emerged without bitterness or bloodshed, finds that she must at once be ready to deal with grave international issues. This fact has of recent months been unhappily emphasised by the startling events which have occurred in this continent. "I shall not belabour the point but it would be unrealistic not to draw attention first to the awe-inspiring task confronting us at the very start of our nationhood. When this day in October 1960 was chosen for our Independence, it seemed that we were destined to move with quiet dignity to our place on the world stage.
Recent events have changed the scene beyond recognition, so that we find ourselves today being tested to the utmost. We are called upon immediately to show that our claims to responsible government are well-founded, and having been accepted as an independent state, we must at once play an active part in maintaining the peace of the world and in preserving civilisation. I promise you, we shall not fall for want of determination. And we come to this task better-equipped than many." National anthem sung, Nigerian flag hoisted After Balewa's speech, the national anthem was sung and the Nigerian flag, designed by Taiwo Akinkunmi in 1959, was hoisted to replace the British Union Jack. Also, Jaja Wachukwu, Nigeria's first indigenous speaker, received Nigeria's instrument of freedom (also called 'Freedom Charter') from Princess Alexandra of Kent, a member of the British royal family who represented Queen Elizabeth at the ceremony.
In the evening, the sky above the Tafawa Balewa Square was animated with colourful display of fireworks and shouts of happy independence. Dance troupes and masquerades of different Nigerian ethnic groups displayed their dancing prowesses and thrilled the audience with acrobatic displays. A state banquet was also held where dignitaries from Nigeria and other countries mingled, wined and danced.
The journey to October 1, 1960 Before his death on October 9, 2013, former Governor of Plateau State, Chief Solomon Lar, recalled with nostalgia, how Nigeria celebrated independence on October 1, 1960 and events that heralded the day. He said October 1, 1960 was "another great day for me and fellow parliamentarians who were elected on Saturday, December 12, 1959 into the Federal House of Representatives. We were 312 from the then single-member constituencies, out of which 174 were from the Northern Region, 62 from the Western Region, 73 from Eastern Region and three from Lagos, the then Federal Territory. "On January 12, 1960, we, the elected parliamentarians held our first meeting and two days later, on January 14, 1960, we passed a motion for Nigeria's Independence, which the Prime Minister, Sir Abubakar Tafawa Balewa, a great democrat, took to London to finalise talk for actualisation of 1st October 1960 as our Independence Day.
"We worked as patriotic Nigerians without emphasis on our differences to see the mission accomplished. This came to reality when, just before the midnight of September 30, 1960, we all gathered at the Lagos Race Course awaiting the birth of an independent and emancipated new nation called Nigeria. "I remember with nostalgia, and a sense of gratitude to God, how we stood for prayers led by the Anglican Bishop of Lagos, the Roman Catholic Archbishop of Lagos and the Chief Imam of Lagos.
They all prayed for this nation and when it was exactly12 midnight, the floodlights were dimmed and the light came up again, ushering a new Green White Green banner that replaced the Union Jack on the flagpole. "We sang the new National Anthem with great hope and sense of total commitment to our great nation, Nigeria. Later in the morning, the Queen of England, Elizabeth II, represented by her cousin, Princess Alexandra of Kent, formally handed the constitutional instrument to the Prime Minister, Sir Abubakar Tafawa Balewa."
Credit: Vanguard
en
SOURCE :The Nigerian Voice (politics)