Okorocha, Nwosu And The Third Term Agenda (part 2)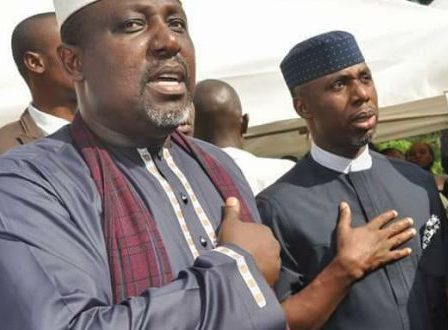 When one go through troubles or hardship one can say why do these things happen to me? One can also say life is terrible. But life really is not that terrible. If I have learnt one thing, it is that everything happens for a purpose, ether to lift one higher or to give one more experience about life. I had this friend who was accused falsely and abandoned in prison. I fought hard with my resources and experience alongside two other persons to get him out. When I had my own troubles, he did not do a thing for me though he had the means. His condition before he could assist me which I rejected was that I join him support the governorship ambition of his kinsman, Uche Nwosu . I have since said it that the qualities I expect of a leader include honesty and integrity, goodwill, altruism, foresight and a love of peace and justice and that Nwosu does not have those qualities. Also, he is the son In-law of the governor of Imo State and his governorship is someone's third term agenda.
As an unknown servant I insist on things to be done right for the good of the majority. Some say to me, "I don't like the word servant you use'' Why call yourself Servant. People who have no interest in the things of God will have a reaction to serving others. But the people who have served mankind best are the ones who have served mankind the most. People like Abraham, Socrates, Lincoln, and Einstein. They put a whole new spin on creation and on reality that most people have no idea at all what they talk about.
I once watched my friend jumped into his car heading to Spibat Estate. The road to Spibat were narrow and winding but in this lonely, rural looking suburb lived one man who presently runs Imo State as an offshoot of his foundation with his siblings and in-laws visibly milking the state dry with impunity. This man lived at the end of a cul-de-sac. He named his home Spibat Estate. He had only 2 plots of land in the area before the 2011 elections that brought him to power but today he has over 100 plots converted to an estate. Some say he has a pool and a tennis court and about 2 acres of wood with chains of houses.
He is the man who is currently on a duplicitous outing to elongate his regime through his Son In-law. For the poor and working people of Imo State there is nothing cheerful in this plan. If he is allowed to win again, it will mean a continuation of a regime of anti people, anti poor, pro-rich, pro-imperialist cum capitalist thieving policies and it will cement the looting of public resources in Imo by one family and their fronts. This man has stolen so much and is now afraid to let go and wants to reach 100 years old on earth before he can relinquish power.
We don't want a third tenure for Rochas. His plot will fail. The Press in Imo, to their credit, has been alive to its responsibility as the vigilant watch-dog which, in diverse ways, has roundly condemned the elongation of tenure ploy in Imo.. For the records, I am not aware of any respectable newspaper at home or abroad that has thrown its weight behind the ignoble cause with an editorial in support. On the contrary, many have voiced, in no uncertain terms, their opposition to it. Above all, the masses all across the state have left no one in doubt that Imo needs someone else outside the family of the governor to take over governance in 2019. We want to try new ideas. We want good ideas, someone who will implement pro-masses policies. Governance in Imo cannot continue to be like Baba Salah Nkwobi and pepper soup Joint.
Politically, economically and socially, the government of Okorocha has shown inability to move the state forward. With Imo's huge resources and financial allocations from FG the present state of socio-economic and political paralysis and unimaginable underdevelopment and mass misery of the vast majority of Imolites in all the LGA's and sectors, provide an irrefutable proof of failure of the rule of this man. His government is not interested in genuine effort at developing public infrastructures or the economy through which millions of jobs can be provided. To him, economic growth is defined by the amount of billions that he can amass so as to compete with elements within his class. Imo State University has totally collapse under him.
The profit-hunting first family in the state is above the law. The entire LGA funds are for them to spend as they wish. How can you say you have a government in the state when you are holding our local councils to ransom and taking merchandise of their allocations? Since this government came into power they have not conducted council election. The first family does not want elected council men because they cannot face the prospect of losing their council pot of soup that they have been leaking from since June 2011. The state of things in Imo's 27 LGA's is a direct reflection of their commitment to enslaving the people.
They are cornering society's resources for their own self-serving motives. Rather than investing society's resources to rehabilitate public enterprises in the state such as Adapalm Plantation in Ohaji/Egbema, so that they can work efficiently, they sold them off to elements that are fronts for them. This thieving family told us that selling off public enterprises in the state is the best way to make them work but today we have seen how they have run all the public enterprises aground through corruption of the government fronts in charge of them. The once bubbling Adapalm Plantation that was sold out and renamed Imo Palm Plantation is grounded and reptiles have taken over the bushy compound after being abandoned by the state government and Roche Group-the company managing the establishment. 3000 persons lost their jobs due to the closure of this establishment. Yet the same man who has ruined the state wants a third tenure through his son in-law. Mbanu!. Imo must be delivered
-Kenneth Uwadi writes from Mmahu Egbema, Imo State and can be reached via 08037982714
en
SOURCE :The Nigerian Voice (opinions)