Okowa's Information Managers Trade Words Again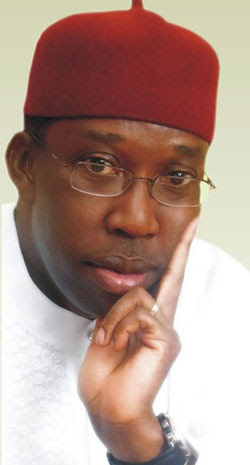 By Kenneth Orusi, The Nigerian Voice, Asaba
The cold war allegedly raging between the Delta State Governor Senator Ifeanyi Arthur Okowa's two media managers has come to public domain as the duo fights over same job.
It would be recaled that during the first and second year anniversaries of Okowa as governor of the state since May 29th 2015, the state government drew an all-inclusive time table of journalists in the state, especially those in the state capital to cover the inspection and commissioning of projects by the governor which was handled by the Ministry of Information.
The programme of events released by the state, journalists were taken turn by turn to cover the governor's anniversary which was interrupted by the Chief Press Secretary (CPS) to the Governor, Charles Ehiedu Aniagwu.
The CPS, midway, injected reporters especially those from the national dailies that have taken their turn into the programme to form his media team outside the media crew that covers the governor.
It was alleged that the CPS, the Commissioner of Economic Planning, Mr Kingsley Emu and the Executive Assistant, Directorate of Orientation, Barr Eugene Uzum have continuously pushed on Okowa to remove Ukah, but the moves had been unsuccessful.
Sources in government house have also alleged that the Special Assistant on Media to the governor (Electronic), Ameachi Udemba and the Special Assistant on Media (Print), Prince Victor Efeizomor, have recently joined the fight to unseat Ukah.
Recently, the N10 billion Paris Club Refunds to the state aggravated the cold war after the Information Commissioner briefed the press on how the fund was spent; the CPS two weeks ago gathered the press mainly from the national dailies and briefed them on same money and how it was spent.
Speaking on the perceived hostilities, Ukah said, "those of you who know me very well know that am very good in keeping quiet when I do not want to join issues and I think it is the best way because when you talk when you are not supposed to talk, you say what you are not supposed to say and you open up the wound that you are not supposed to open".
He noted that it was better to have facts before speaking on an issue, "so, it is always better to speak when you know that you have the facts to talk about".
In his response to the conflict, the CPS referred journalists who called him to react on the difficulty investors faces in doing business in the state and other issues to Ukah, so as not to be accused of overlapping into the functions of the Commissioner.
"Please, call the Commissioner of Information; he is the one that attends State Executive Council (SEC), meetings. He is the one that can speak on the matter so that they don't say I am taking his job from him. My brother that is what they are saying", he noted.
en
SOURCE :The Nigerian Voice (local news)