Onitsha Residents March for Obiano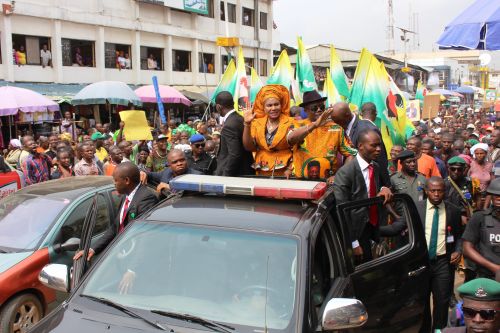 Residents of the commercial city of Onitsha took to the streets on Sunday afternoon in an open show of support and solidarity with the Governor of Anambra State, Chief Willie Obiano in his bid for a second term in office in the gubernatorial election that is coming up on the 18th of this month.
The residents who gathered around the New American Quarters part of the city took off from the 360 Garden Spot on a long trek through Ozalla Street to DMGS Roundabout/Awka Road and through Upper New Market Street to Okolo Street, Ogbo Mmanu Roundabout/Old Market Road and environs.
Chanting joyful songs and singing the praises of Governor Obiano, the crowd urged passersby and other residents staring down the streets from the balconies of their homes to vote for Governor Obiano in the coming election to ensure that Onitsha continues to enjoy the peace that it has known in the past three and a half years.
After touring the entire Onitsha North part of the ancient city, the procession finally arrived the take off point to the boom of cannon sounds and joyful affirmation of support for Governor Obiano.
Speaking after the procession, one of the brains behind it, Mr Uzu Okagbue explained that the idea was to stir up the emotions of Onitsha residents so that they would remember how peaceful the city had become under Obiano.
"This is the city of my childhood. I'm familiar with it's history and the tortuous path it has traveled to the present peace it enjoys," Mr Okagbue who is also the Chief of Protocol to Governor Obiano explained.
According him, "I have no doubt that Onitsha will continue to evolve into a modern peaceful city if Governor Obiano wins his second term in office. You can see how his solid security policies have made Onitsha a friendlier city. His second term in office will enable him consolidate the great foundation he has laid in his first term. Onitsha and the whole of Anambra State will certainly be happier for it."
Indeed, as the Election Day approaches, Governor Obiano has continued to garner the support of the critical mass of the people that will help him coast home to victory.
Nnewi born billionaire and former gubernatorial aspirant under PDP, Mr Patrick Ifeanyi Ubah had dramatically announced at the weekend that he had dumped his former party for APGA and would soon roll out an elaborate campaign to return Governor Obiano to power.
Ubah had given an emotional speech in which he regretted the awful treatment meted to him by the PDP in spite of his contributions and personal sacrifices and subsequently announced that he had perfected plans to hold a mega rally at the Ifeanyi Ubah Stadium in Nnewi on November 13 to drum support for Obiano.
en
SOURCE :The Nigerian Voice (politics)