Operation Python Dance: Where is our son? – Nnamdi Kanu's family asks Nigerian Army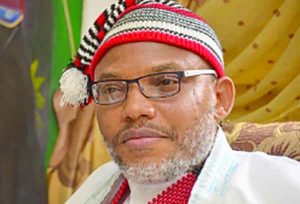 The family of the leader of the Independent Peoples of Biafra (IPOB), Nnamdi Kanu, on Sunday, asked the Nigerian Army to produce their son.
This was even as Kanu's whereabouts remain unknown since after the September 14 military raid of the family house at Afaraukwu, Umuahia the Abia State capital.
His younger brother, Prince Emma Kanu, who made the call on Sunday, expressed his strong belief that the IPOB leader was captured by the army during the raid or may have even killed.
He made a strong assertion that his brother is in the custody of the army and urged the military to release him to the police.
"It is either they (soldiers) captured him or killed him when they attacked our house. If they captured him they should release him to the police, and if they killed him they should produce the corpse because he was last seen moments before the raid," he said.
Prince Emma also alleged that the whereabouts of his parents, HRM Eze Israel Kanu, and Ugoeze Sally Kanu, has remained unknown since after the attack, stating that the family had been searching for the IPOB leader and his parents since after the military attack but without success.
However, in a response, the Army said that Kanu was not in its custody, dismissing the allegation as false.
Recall that traditional rulers in Ibeku land had last week asked the army to produce the monarch who they said they had not sighted since after the unprovoked invasion.
The monarchs had also accused the army of desecrating the throne for raiding the palace without provocation while condemning the attack.
Kanu's younger brother who said the family had remained in shock over the attack called on the international community to prevail on the Nigeria Army to produce his parents and the IPOB leader.
He further expressed shock that the palace of a serving traditional ruler could be raided by the military without provocation in a broad daylight under democratic administration.
When contacted, the Army Public Relations Officer, Major Gbadamosi Oyegoke said he was not authorised to comment on the matter, and simply referred our correspondent to a contact he said " is in charge of the Operation Python Dance in Abia."
When contacted, the owner of the contact who did not disclose his name simply said "Kanu is not in army custody."
en
SOURCE :The Nigerian Voice (local news)