Orient Daily reporter, NUJ rapporteur committee scribe loses fatherat 70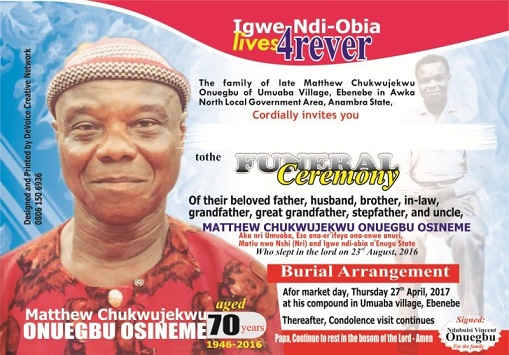 Orient Daily reporter and Secretary General, Rapporteur Committee, Nigeria Union of Journalists (NUJ), Anambra State Council, Comrade Okechukwu Onuegbu has lost his father, Matthew Chukwujekwu Onuegbu Osineme to the cold hands of death at 70.
Late Onuegbu, who is a native of Umuaba village, Ebenebe, Awka north Local Government Area, Anambra State, was survived by four children; 3 males and a female, wife, aunts, grand and great grand children, nephews, nieces, cousins, etc.
According to Okechukwu, who is the deceased last child, his father died since 23rdAugust, 2016, but the funeral rite holds on Thursday, Afor 27thApril, 2017 at his compound in Umuaba village, Ebenebe.
The NUJ rapporteur scribe, who doubles as a poet, author and novelist added that, "My father was an entrepreneurial maestro and silent achiever. He was the first surviving child of Onuegbunem Osineme (Eselu-enu-ego 1), the first son of great Osineme Ezenwude, one of the historical founders of Umuaba village, Ebenebe.
"Until his death, he was a renowned farmer, artist, mason and priest based at Umuaja village, Amandim Olo, Eziagu Council Area of Enugu State from where he traversed all parts of Eastern Nigeria practicing his profession, divine calls, as well as offering philanthropic works, etc.
"The transmogrification of his both parents when he was a toddler made him a breadwinner of his six siblings, as a well as prompted him to dropped out of school at Standard Three against the wishes of his teachers, missionaries, in-charge of the then newly established Ebenebe Central Primary School. He was then the overall best pupil of the Standard Three class, and they were apparently hoping that he would retain his position in the next class, Standard Four, and probably, throughout his stay in the school. The ardent lover of education, however, trained his siblings in the school.
"In religion, my father was a leading figure of the first set of Ebenebe Christian converts, a group of people that metamorphosed into Ebenebe Catholic community (comprising Ugbenu, Ugbene, Awba-ofemili, Mgbakwu and Amansea), now known as St. Joseph Catholic Church, Ebenebe (and lately, Ebenebe Catholic Denary).
"During the Biafra-Nigeria civil war, the fearless and outspoken no-nonsense team leader got actively involved in protecting his people from Nigerian/foreign troops. Then, Chukwujekwu was the provost of Odozi Obodo Age Group Ebenebe (later renamed Ebenebe Town Union), and Grade 3 member of Ebenebe Development Advisory Committee chaired by late Sir R. K. Ndubude (a commissioner in old Anambra State).
"These community development groups constructed Ezu-Odori/Ebenebe/Mgbakwu Bridge, as well as destroyed the same project to resist the intrusion of Nigerian troops to and fro the community and her surrounding environments. In his banks information are thousands of letters, receipts, invitation cards and other correspondence addressed to him as an Executive member, Odoziobodo Works Committee, detailing how they rebuilt the bridge at the end of civil war, constructed Ebenebe-Mgbakwu road, established Community Secondary School, Ebenebe, Umuaba village hall (through another group, Umuaba Progress Union Ebenebe/Umuaba Brotherly Union), Irunese Primary School Ebenebe, among other projects, as well as commendations they received from the defunct Biafran government, and Nigeria government that followed suit. This explained why, until his death, he advocated against war having understood firsthand the harrowing experience associated with war.
"In politics, Chukwujekwu was also involved. There are circulars, receipts, letter of emergency meetings, voters' cards, political party registrations cards, National Identity Cards, and other documents in his information boxes. He was a co-founder/pioneer executives and financier of groups like Ebenebe vigilante group, Ebenebe Town Union, Umuogboo Youths Association, Umuaba Brotherly Union, Umuaba/Ebenebe Christians, Udoka Age Grade, Umuchiaku kindred, etc.
"These was why he was bestowed with several titles like Uk'onu, Eze ana-er'ifeya-ona-enwe-anuri, Okwulu-ora, Matiu Wanshi/Nwa Nri (African Cultural and Traditional Evangelist), Jiga, Igwe Ndi-obia (the King of non-indigenous people/residents) 1 of Enugu State, Aka nri (the Right hand man/the man of truth) 1 of Umuaba village, Ebenebe, etc." Okechukwu added.
en