Oshiomhole slams Obasanjo, accuses him of recruiting 'tired legs' for his third-term agenda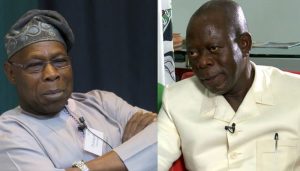 National Chairman of the All Progresssives Congress, APC, Comrade Adams Oshiomhole has said that former President Olusegun Obasanjo has turned himself as Organising Secretary, moving round the country to recruit tired players for his third term agenda. Oshiomhole also has denied the allegation that there was a stay of execution from the court to stop the congresses in the Imo State chapter of the APC, saying nothing like that to his knowledge, just as he said that all card carrying members of the APC in Osun State will participate to elect their party governorship candidate for the October election.
The APC National Chairman who spoke to State House correspondents after meeting with President Muhammadu Buhari behind closed-doors at the Presidential Villa, Abuja on Friday said that his mission at the State House was to brief the President on what was going on in the party to ensure that there was no gap between the government and the party.
Commenting on the threat for mass defection of aggrieved members of the APC, to other opposition parties, the former Governor of Edo State said, "I think it is something you should ask the PDP.
They are the ones who have suffered huge, huge mass defection even of the so called founding fathers. "I mean, in those good old days, people like Professor Jerry Gana will tell us, we are the founding fathers. People like President Obasanjo will tell us, you know I was the first President. All of these people are gone. I think the media need to get more engaged and scrutinize us, those of us who are political players when we speak from both sides of the mouth or we turning the story upside down.
"Just few months back, you know that a good section after their convention, people like Oyederan, Professor Jerry Gana and a host of others who can be said to founding fathers of that party, they left to form what they call SDP or ADC or both. So, they broke out and then when it dawn on them that even together we defeated them just four years ago, and now further factionalized, what can they do.
"And they just want to capture power for the sake of power. So they say, even though we have already broken the house, can we for the sake of power come together? Does it make sense? In the morning, you broke away from PDP to SDP and then to ADC.
"And there is no better proof than that old man who is going round as an organizing secretary recruiting people, looking for tired players to continue with a third term agenda which Nigerians have rejected. By whatever form they come in, Nigerians have spoken. They are not going to return to the era where Central Bank and NNPC security money is shared to people based on PDP philosophy 'share the money'.
"We won't do that, if they have forgotten. It is quite easy for robbers to forget easily the robbery they just did but it is not easy for the victim of the rubbery to forget."
On the APC congresses in Imo State which the party has ordered for new congresses, he denied that there was an injunction by the dissolved executive members and that nothing was going to stop the congresses as scheduled.
He said, "It is going on, I know for a fact that I was served with a court paper which nullified the congresses that were done under my predecessor. On the basis of the court judgement which nullified the election, we were obliged to now go back and re-conduct it which is what we are doing today (yesterday). If anybody purports that there is a new court order, it has not been served on me.
"You will agree with me that however unfairly you look at me, however small I am, I have a postal address, a contact address, a residential address, so it is not possible to have a court order and it is not serve on me. And I do not belong to the category of persons that will run away from service. If there is there is a court order, as a governing party, we are obliged to live by example. So, the truth is that there is no court order."
On whether he was not aware of any stay of execution of the judgment, he said, "There is no stay of execution. A stay of execution is not something that is secret. If anybody has one, he should show it to you."
Oshiomhole also spoke on the recent governorship election in Ekiti State and said, "I think the people of Ekiti state having recalled the good days of Dr.(Kayode) Fayemi, comparing them to the level they were reduced to in the present government, voted wisely for change and for Fayemi to complete his unfinished business. "For us, we are very happy and we trust that Ekiti people would be happy for the decision they have taken. On my part, of course, it is a personal sense of victory because this was the first outing of the party under my leadership. The last time after our convention, in 2014, we had an election in Ekiti and we lost. This time, we won, so I think, as they say, morning shows the day. I believe it was a good outing
"The challenge is now for Fayemi to do what he has to do to ensure that the people of Ekiti recover arising from the lost ground arising from poor governance that was provided by the current PDP government in the state. As for Osun state, we are even much more confident because there, we have a governor who is at home with his people, he a mobiliser, an organiser and an astute politician.
"We have also decided that in order to give people a more sense of ownership in the electoral process, we use direct primaries, which means that every card carrying member of the APC is going to participate in choosing who should fly the flag of the party. "Now, this method gives more and more people a sense of ownership and a sense of commitment to the candidate that they have all chosen. It returns the party to the grass root so that new sense of renewed ownership, renewed sense of participation and inclusion by itself, is a value that would make the actual election even much easier.
"So, we are confident that the great people of Osun state will vote for our party because the candidate that will emerge will be the candidate chosen by the party members and not the party oligarchy. That makes a lot of difference."
Speaking specifically on why he was at the State House, the APC boss said, "As a national chairman of the governing party, I have the responsibilities to preside over and to administer the party. And party matters in a very dynamic environment such as the one we are in, meant that from time to time, and I have come here to meet with the President who is the head of the Federal Government and the executive elected on the platform of our great party to share with him what we are doing in the party and what he is doing in government so that there is no gap between government and the party. That is the way it should be and we had a very brief business like meeting." Vanguard
en
SOURCE :The Nigerian Voice (politics)