Osinbajo, nPDP to meet on Monday as APC moves to douse crisis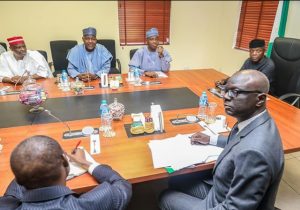 The ongoing discussion with members of the new Peoples Democratic Party (nPDP) will continue next Monday , the Deputy National Chairman (North) of the ruling All Progressives Congress (APC), Sen. Lawali Shuaibu, said in Abuja on Thursday .
Shuaibu spoke with journalists at the APC National Secretariat to correct the wrong impression about the on-going meeting with former nPDP members.
The Deputy National Chairman, who is the representative of the APC National Chairman, Chief John Odigie-Oyegun in the talks with the nPDP members, said the meeting agreed to reconvene next Monday with a smaller group of eight which will comprise Vice President Yemi Osinbajo, the Attorney-General and Minister of Justice, Abubakar Malami and himself (Shuaibu) and five representatives of the former nPDP members.
He said while Monday's meeting which had in attendance twenty former nPDP members dwelt on 'general discussions', the next meeting scheduled for next Monday will "go into the business of discussing the (former nPDP) specific demands".
Shuaibu said, "When we got to the meeting venue in Aguda House, the Vice President felt we were too many. He said for the meeting to achieve any meaningful result, we needed a much smaller group. On that, there debates as to how many people. The Vice President suggested that the nPDP bring three representatives, and then himself, the Attorney General and myself to make up three so that we have six. But they (nPDP) insisted that they needed more than three representatives and we finally settled on five. From there, we went into general discussions, nothing specific.
"We said when they (nPDP) are ready with their five representatives, then we will sit down and go into the business of discussing the specific demands. There was no time during Monday's meeting the condition was given that Sen. Bukola Saraki's Code of Conduct Tribunal (CCT) trial must be withdrawn. I don't know where they got that story from. I have a strong feeling that whoever wrote that story was only being speculative because nobody could have said that."
He added that the basis for last Monday's meeting was the content of the former nPDP's letter submitted to the party and copied to the President and Vice President.
"The content of the letter which is now public, that is what the basis of their demands are. At the next meeting on Monday , we will go into the specifics. That letter will be x-rayed point by point," he said.
Asked to clarify whether the meeting touched on the recently conducted ward, local government and state congresses, he said, "The letter did not even bring the issue of congresses because it was written before we started congresses. But the issue of congresses was raised in the meeting of Monday . The House of Representatives Speaker, Yakubu Dogara raised the issue and we said when we come for the specifics, we will talk about that.
"When certain issues come up, there are ways we can always address them. Are you saying we can't make amends? Yes, we can. Decisions are made and amends of such decisions are always possible. Politics is not madness; there must be a way of accommodating people's grievances. There must be a way of carrying people along, especially those who are left behind in any process." (Text: Daily Trust)
en
SOURCE :The Nigerian Voice (politics)