Osun Government Debunks Reports On Fresh Crisis In Ile-Ife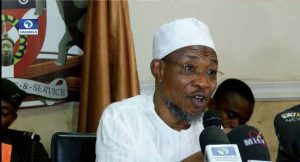 The Osun State Government has clarified that no fresh crisis started in Ile-Ife town over the weekend.

Several news outlets had over the weekend claimed that nine persons were injured in a skirmish that broke out in the ancient town of Ile-Ife.
Speaking to newsmen in Osogbo, Mr Tope Adejumo, the Special Adviser on Security to Governor Rauf Aregbesola, stated that there was no fresh crisis in Ile-Ife as everyone is going about their normal businesses.
He warned those publishing false news in the hope of whipping up ethnic sentiments and violence to desist forthwith.
Mr. Adejumo however noted that some young people in the Asipa and Ipetumodu area of Ife North Local Government had earlier on Friday engaged each other in a free fall over some boundary dispute.
He noted that it was not an inter-ethnic clash and neither was it a crisis.
He described it as a case of 'breach of public peace' and explained that the dispute has been curtailed.
Mr Adejumo further noted that normalcy has since returned to both towns and law enforcement agencies have been deployed to the area to maintain peace and order.
SOURCE: Channels Tv