Osun State House of Assembly Speaker cautions PDP against violence during Osun West Bye-Election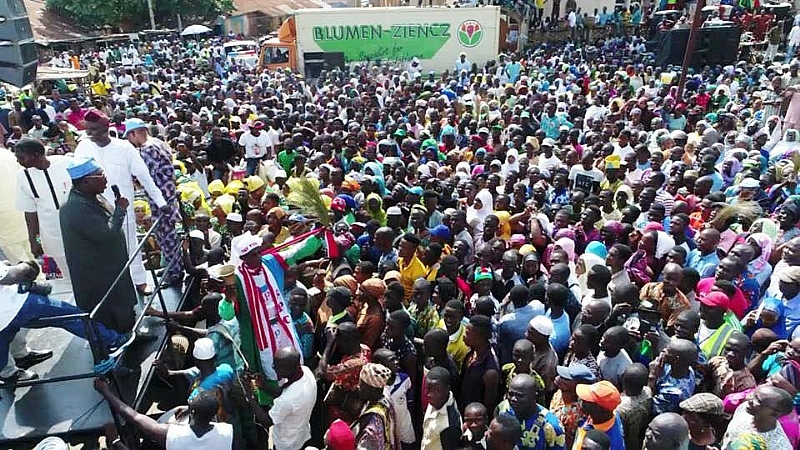 The Speaker of Osun State House of Assembly, Rt. Hon. Najeem Salaam has warned members of the Peoples' Democratic Party to eschew violence before, during and after the July 8 Osun West Senatorial bye-election.
Salaam said this while addressing party faithful in Ejigbo during a mega rally of the candidate of the All Progressives Congress (APC) in the election, Senator Mudasiru Hussain.
The Speaker who doubles as the chairman of the APC campaign committee for the Osun West Senatorial District by-election said politics should be contestation of ideas and deliverables, not the battle of blood and sorrow.
He stressed that it was worrisome, the way and manner the opposition position was prosecuting their campaign, disclosing that it was leaving violence and destruction of campaign materials of the candidate of the ruling party on its trail.
Salaam admonished the candidate of the PDP, Otunba Ademola Adeleke to caution his supporters. He said the long arm of the law is a respecter of no one and that whoever causes breach of peace would be arrested and prosecuted.
He said he was aware of movement of some hired militants from Niger Delta and North East recruited by some desperate politicians to cause violence in some select communities.
The Speaker said the security agencies were on top of the situation and urged the people in Osun West district, particularly rural dwellers to be vigilant and monitor strange faces in their respective communities.
He noted that Osun has been enjoying peace and harmonious relationship before the violence was reignited by some unscrupulous politicians who thought violence could be used to prosecute their campaigns.
He expressed regret that the violence perpetrated some unscrupulous element has shattered the peace enjoyed by the people of Ede, Ido-Osun and Ejigbo. He said the ruling party is not weak but lenient based on democratic tenet.
Salaam explained that Osun cannot afford to make the mistake of sending a Senator without cognate experience who would not be placed among the ranking lawmakers in the Senate to Abuja at this critical moment.
He said Husain is fits for the position given his profile and wealth of experience as a former legislator. Salaam urged the electorate to consider experience and exposure in making their choice on the day of the election.
en
SOURCE :The Nigerian Voice (politics)