Osun West: Aregbesola warns political thugs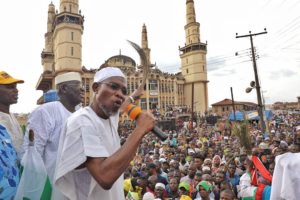 By Nofisat Marindoti, The Nigerian Voice, Osogbo
As the Osun West senatorial by-election is fast approaching, the Governor of the state, Ogbeni Rauf Aregbesola has sounded a notice of warning to some political players who are hell bent to win the contest by force.
Aregbesola gave the warning at the rally held in Ejigbo for the candidate of the All Progressive Congress(APC), Senator Mudashir Husein, in the coming Osun West by-election.
Aregbesola who was highly moved by the mammoth crowd that thronged the venue of the mega rally, berated the Peoples Democratic Party (PDP) for allegedly planning to import militants to the state, and vowed to resist the move.
He however ordered a minute silence in honour of the late senator Isiaka Adeleke who suddenly died on April 23.
Aregbesola explained that although the death of Adeleke is painful, the selection of Husain was based on party's principles and regulations and not hatred for the deceased's family.
According to him, Husain is a loyal party man, adding that elective position is not hereditary but strictly base on professionalism, experience and political sagacity.
"If elective office is hereditary, Bola Ige's family should have been the Governor of Osun, Ajasin's family in Ondo, Awolowo's family in Ogun. But it is not, meaning politics and getting into political office is not hereditary but divine.
"When they were in the federal government, we defeated them, after Saturday's election that will be the end of the conservatives in Osun."
Governor Aregbesola however urged voters, especially women to vote the APC candidate, as he enjoined them to protect their votes jealously.
Speakers at the rally includes Senator Mudashiru Husain; Speaker of Osun Assembly, Najeem Salaam; Secretary to the state government, Alhaji Moshood Adeoti; Elder Peter Babalola; and the Osun APC chairman, Prince Gboyega Famoodun who urged the people of Ejigbo to vote the APC in the forthcoming elections.
Husain, in his remarks said he is the only senator from the district who has unprecedented record of bringing the dividends of democracy to the electorate.
He added that if electorates voted or him, the trend of prosperity and change will continue in the district as evident in his sojourn in the Senate between 2011-2015.
en
SOURCE :The Nigerian Voice (politics)