Pastors Without Job Should go Get One, Don't Depend on Church…Actress, Eucharia Anunobi Fires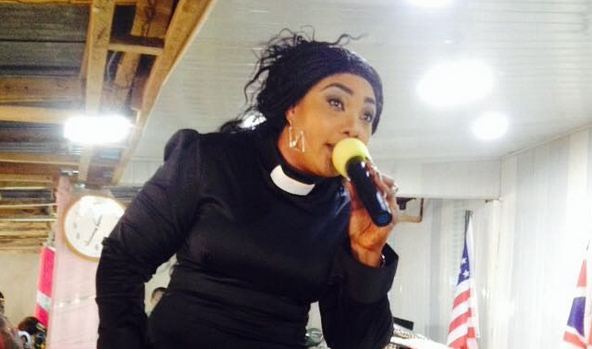 Source: Nathan Nathaniel Ekpo/Nollywoodgists.com
Nollywood actress, Eucharia Anunobi, is been very vibrant since carrying the mantle to work for God and she has been doing that diligently with all happiness.
The actress has been able to use her social media platform to educate many on what God wants us to do while she also mentors many with the same word of God.
Well, she fears nobody and as such, decided to enlighten and educate many on what the Holy Bible says in Romans 8 : 37 says – "Nay, in all these things we are more than conquerors through him that loved us" while she takes time to break it down.
"Beloved ones, you can't rule your world and be celebrated if there's nothing you're doing with your hands and your brains. You have to put your hands to the plough. Don't be deceived by senseless messages of you receiving strange money you never laboured for. Don't be deceived by any one calling out your phone number or the name of your village or dead relatives.
"Until you actively learn a skill or go through training, and be gainfully employed, you will continue to be oppressed by poverty and never be celebrated. Now if you're a minister and you have no work, to generate money for your upkeep and run your ministry – church work, you had better reconsider your stand. Our God is not a magician: go and read what He has said in Genesis 3 : 19.
"We become conquerors over all trials , when we seek to be educated , when we seek the right medical advice / solutions to our ailments other than sitting at home and watching that disease ravage our bodies , we become powerful and great preachers when we become knowledgeable to feed our members with seasoned pastures ( knowledge ) – Read Malachi 2 : 7. We become brilliant students, when we dedicate time to our studies. We become adorable husbands and wives when we treat our spouse's lovingly . Peace," she noted.
SOURCE: The Nigerian Voice (entertainment)