PDP cries out over police case against Adeleke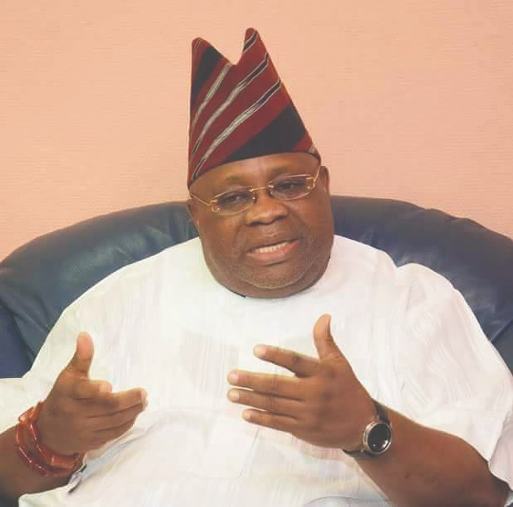 By Olawale Adewale, The Nigerian Voice, Osogbo
The Peoples Democratic Party (PDP) has accused the Federal Government of using the Nigerian Police Force to intimidate the candidate of the party for the Saturday gubernatorial election in Osun State, Senator Ademola Adeleke over a case of examination malpractice.
The Deputy National publicity Secretary of the party, Prince Diran Odeyemi in a press statement on Wednesday said the police case against Adeleke was an attempt to compromise the integrity of Saturday's election.
In the statement, Odeyemi said "The attention of the national secretariat of the Peoples Democratic Party has been drawn to a statement purportedly issued by the Force headquarters of the Nigeria Police declaring the candidate of our party in the Osun state Governorship election holding on Saturday wanted for some alleged conspiracies on examination malpractice."
"This action by the Nigeria Police Force coming about 72 hours to a decisive governorship election in Osun state goes to confirm our fears that the Federal Government is desperate to intimidate the main opposition candidate in order to compromise the integrity of Saturday's election."
"We find it quite unfortunate that an institution like the Police which ought to be neutral and apolitical has allowed itself to be used as a tool for the ignoble role of thwarting the free expression of voters preferences for the PDP candidate in the Governorship election."
"This new desperate measure of the ruling party is coming on heels of a massive rally of the PDP held in Osogbo which confirmed that indeed the APC was bound to loose the election which is just 3 days away."
"We affirm that our candidate, Senator Nurudeen Ademola Adeleke is not involved in any form of conspiracy to commit examination malpractice at any point in time."
"In actual fact, the West Africa Examination Council has deposed to an affidavit before a Federal High Court in Abuja confirming that Senator Adeleke indeed sat for the West Africa School Certificate Examination in 1981."
"In attempting to run down the PDP candidate for his APC opponent, the Nigeria Police has embarked on a very terrible mission which may go down in history as the most ridiculous intervention in an electoral contest."
"We once again call on well meaning leaders of thought in Nigeria, the International community and Civil Society organisations to rise up in defence of democracy in Nigeria."
"We remain confident that the PDP will coast home to victory in the Osun State Gubernatorial election and that our candidate, Senator Nurudeen Ademola Adeleke will once more be vindicated".
en
SOURCE :The Nigerian Voice (politics)