PDP senators roundly condemn police raid on Ekweremadu guest house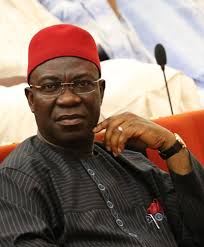 The Senate caucus of opposition People's Democratic Party  has condemned in strong terms the police raid on Deputy President of the Senate, Ike Ekweremadu's guest house in Abuja two days ago.
The caucus described the raid as "unwarranted, unacceptable and a deliberate attempt to muzzle the opposition".
The position of the caucus was conveyed   by its spokesman, Senator Enyinnaya Abaribe, in a statement in Abuja.
The police on Friday raided the National Assembly guest house of Ekweremadu in Abuja on the excuse  that a whistle blower tipped them off that Ekweremadu hid arms and money in the property.
The police explanation did not gain traction with the caucus.  According to Abaribe, the police explanations that they acted on whistle blower tipoff was begging the question.
Abaribe said  the failed gestapo-like operation was "nothing but a smokescreen to cover up a carefully cheorographed plot to intimidate Senator Ekweremadu and by so doing cow the opposition from pointing out the failings of the government of the day".
The  caucus  said that for the invasion to have been ordered by the Inspector General of police on a property owned by the National Assembly was a willful affront on democracy.
The caucus noted "We had raised alarm on this plot not too long ago and now they have carried out the assignment only to reach a dead end, to the embarrassment of the police and other anti-democratic forces bent on casting a wicked shadow on our flegling democracy.
"We of the Senate PDP Caucus will never be intimidated or cowed in discharging our constitutional mandate of providing a responsible opposition.
"Is it not an irony that the raid in the National Assembly guest house is coming on the eve of the democracy day anniversary? A raid on a property of another arm of government is a dangerous  continuation of attack on the institutions that effects the needed checks on the excesses of the executive. It cast an ominous sign and this must stop", Abaribe said.
en
SOURCE :The Nigerian Voice (politics)