PDP Will Be Free Of Impunity If You Leave Now – Pdp Spokesman Tells Makarfi And Others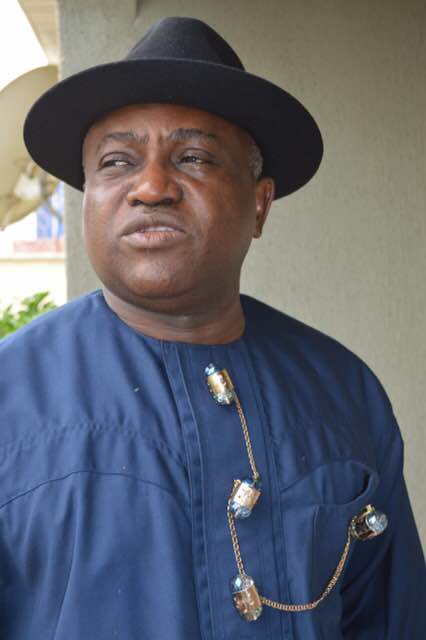 IN THIS PULSATING INTERVIEW WITH HON. BERNARD MIKKO THE SPOKESMAN FOR SEN. ALIMODU SHERIFF LED PEOPLE'S DEMOCRATIC PARTY (PDP), HE FIRES A HUGE SHOT AT EMBATTLED FACTIONAL CHAIRMAN SEN. MAKARFI AND HIS BACKERS THREATENING TO REGISTER A NEW PARTY AHEAD OF 2019 GENERAL ELECTIONS. UCHECHUKWU UGBOAJA IN THIS EXCLUSIVE INTERVIEW SEEKS ANSWERS TO WHY THE PDP CRISIS PERSISTS DESPITE EFFORTS BY FORMER PRESIDENT JONATHAN'S INTERVENTION, WHAT WILL BE LEFT OF AFRICA'S LARGEST POLITICAL PARTY IF IT EVENTUALLY SPLITS AND MUCH MORE. EXCERPTS
QUESTION: A lot of your party members and followers alike have claimed that your principal Sen. Alimodu Sheriff is simply playing the card of the ruling party as the lingering crisis seems to be in favour of the All Progressives Congress (APC). In fact many have claimed that he is actually a mole planted by the ruling APC to cause an internal implosion within the PDP. Don't you see any sense in that view?
RESPONSE: That is absolutely preposterous. Are they referring to a Sen. Alimodu Sheriff who has initiated several moves with party Elders and strategic stakeholders (including Gen Gusau)and all the parties agreed to a political solution and to abide by the court of appeal judgement without further litigation. After the Makarfi group reneged on this understanding proceeded to the apex court, we accept the recommendations of the Peace & Reconciliation Committee chaired by Governor Seriake Dickson of Bayelsa State.
Loyal party members are committed to the ideal of the party and abide by philosophy, manifesto and ideology of the PDP. Any suggestion to the contrary is simply mischievous. Triggering the process of registration of new political association is an attempt to seek new window for political bargain and economic advantage.
QUESTION: But it was widely reported that Sen. Sheriff walked out on President Jonathan in the course of the meeting, how did that action help in the course of this reconciliation process?
RESPONSE: The former President (Jonathan) has not said Sen. Ali Modu Sheriff walked out on him. Remember that there were several issues preceding the meeting and when the concerned we're not addressed some of the participants left, including Gov. Nyesom Wike and Sen Godswill Akpabio who left earlier than Sheriff. The Meeting brokered by fmr President Jonathan was to appraise the report of the Peace and Reconciliation Committee chaired by Gov. Dickson.
President Goodluck Jonathan assured us that it is only those that were on the list sent in by both groups will be allowed into the meeting, and we agreed. In fact he asked us to send our protocols to carry out the accreditation for these persons which we also did but to our amazement just an hour before the meeting commenced the whole gallery was filled up. I personally advised Sen. Alimodu Sheriff not to come anymore for the meeting because the conditions earlier agreed to had already been flouted, but Sheriff being a man of his words decided to go ahead to honour the Former President even though he had just flew in from Egypt hours before that meeting commenced.
How then can it be claimed that Sheriff walked out on Jonathan when before Sheriff left Sen. Goodswill Akpabio had left, Gov. Nyesom Wike also left long before the National Chairman left. So why is it only being reported that Sheriff walked out of the meeting and therefore doesn't want any political solution to this matter option. In fact if there is anyone who wishes that these issues be resolved I can tell you it is Alimodu Sheriff the National Chairman who accepted to reconcile the issue despite President Jonathan's failure to take full charge of the reconciliation process, because it was eventually high jacked by these same elements who do not wish the party well.
I'm sure you're aware that we had already fully accepted the findings and recommendations of the Governor Dickson led reconciliation committee and the meeting with Jonathan was just a follow up to that, so what reasons would make Sheriff decide to scuttle the process along the way?
It was simply because Jonathan allowed these people to overshadow him. How can Gov. Fayose insist that Sen. Alimodu Sheriff must not be addressed as the National Chairman of the party at that meeting and President Jonathan who had earlier recognised him accordingly during in his opening statements, later reverse his position when confronted by Journalists. Although I would not want to join issues with the former President, but early indicates that he was not in charge of that process.
When this process began, Jonathan requested for 9 names from both Makarfi and Sheriff, however, Sheriff later discovered that 115 names was later submitted by the Makarfi Camp that was where Sheriff began to loose confidence in that process, but remember Sheriff was away in Egypt while Cairo was in London, it was I and Gulak that was doing the major work on ground. Eventually Sheriff was able to generate about 30 names despite pressure to generate 100 names to match the 115 names already submitted by Makarfi, because it was agreed that there was not going to be any votes, cheering/jeering, clapping and the sequence of the meeting was further agreed upon by both groups where Sheriff was to be given an opportunity to make a brief closing remark at the end of the event to thank everyone for honouring the invitation to come for this meeting. In fact we were assured that if we found any unaccredited person in the hall, that Sheriff has the right to walk away from the meeting.
QUESTION: But as it appears now there are claims that you are seriously supported by the APC led federal government to frustrate any attempt to resolve this imbroglio even beyond 2019, so their only option to challenge the APC is to leave you with the carcass of whatever may be left of the PDP and register a new party. What is your reaction Hon. ?
RESPONSE: If the other group and registering new party what is their business with the PDP again? I can confidently tell you that no such division or schism exists, dissidents are only at work for their selfish reasons.
In so far as the freedom of association is guaranteed under our constitution, Nigerians are becoming more enlightened to know and identify these principal actors that had used the democratic mantra to undermine our unity and national development. These people only believe that democratic norms are better served when they alone are in charge.
I wish to call on Nigerians that the biggest challenge to our unity and national development is not the proliferation of mushroom political gang ups, but a stronger commitment to an increasing democratic ethos. Those parading themselves as PDP stalwarts or stakeholders itching to form new political associations are in fact military apologists and nomadic political activists with no genuine political credential looking for a political window to position themselves for economic settlement or advantage. An inquiry into the background of these people will show that they are the same people that superintended over the affairs of the PDP with impunity for over a decade and are responsible for the problems which they now claim to have a cure.
I will therefore call on all PDP faithful to remain resolute as the leadership of our party led by Sen. Alimodu Sheriff is committed to eliminating all forms of lawlessness and impunity perpetrated by this gang members who are now trying to confuse our teeming supporters. If these dissidents are confused, I will appeal to our members not to pay any meaningful attention to them or also get confused. The tap root of our party, the Peoples Democratic Party is at the grassroots, the wards and not in the hotel lobbies in the metropolis. These dissidents can not in one breath pursue a course of litigation at the apex court and also fail to align themselves with basic democratic principles by trying to use loud voice to cover up weak points to justify their actions. They are frustrated because they have failed to manipulate the political process to generate their desired selfish result or advantage.
I can assure PDP loyalists, members and committed stakeholders to remain resolute as the National Chairman, Sen Ali Modu Sheriff is already succeeding in bringing the party to the glorious days that gave hope and confidence to the electorate and ensured our electoral success for sixteen years.
The principles of law are entrenched and does not change whimsically. The other people have already given indication that their body and soul is no longer in the PDP and it will be highly speculative of what will happen at the Supreme Court and thereafter. It will be an act of anticipatory hindsight for me to contemplate the likelihood of the supreme court judgement.
Look from what you already know they are the ones we hear are trying to register a new party, we are not the ones registering the new party which means that it is not our desire to go anywhere, we are in the PDP. If you care to know they are tying to use this new political party to negotiate because when the anti-corruption way get to them they willl try to hide under the new part claiming that they are being witch hunted as a result of their new political affiliation.
QUESTION: Don't you think your party will appear stronger together against the ruling party APC as the 2018 campaign season draws near?
RESPONSE: Those people who you think are PDP are the same people who conived with the opposition party to win the election against their own party. A lot of them are also the same people who couldn't perform while they were in government and the electorate saw the general elections as an opportunity to vote them out for good. So are these the same people you would like to rely on going forward to 2019? They are the ones killing this party, this impunity we are talking about today, was brought into the party by them. Some of them worked for the then opposition, funded the opposition and worked against the interest of the PDP, even religion was also used against the interest of the party. They just want to hold on to PDP, in fact tell me which of them have not visited the EFCC for one financial issue or the other as regards the last election.
QUESTION: But some of this aggrieved individuals have the experience that the Sheriff leadership needs to enjoy acceptability nationwide, so mending fences with them may seem to be a viable option if PDP seeks to wrestle power in the next general elections.
RESPONSE: What have really changed about these individuals that you in the media keep referring to as founding members that the party cannot do without? The imposition that have bedevilled the party and brought it to where it is today was it not created by them? What else do they have to offer Nigeria other than impunity and lack of internal democracy? They are all military apologist, including some governors who want to perpetually impose candidates on the party without due process which is what Alimodu Sheriff has vowed to resist. So we must call a spare a spare, don't forget that when you fight corruption it fights back and the same goes with impunity, it fights back.
QUESTION: If you insist that these aggrieved individuals today no longer have the qualities needed to lead a party they founded and now you believe that the party could be better led by a Sheriff who just recently joined the party towards the twilight of 2015 general elections don't you think that is somewhat difficult for the mind to comprehend?
RESPONSE: Let me ask you now, the people calling most of the shots today in the APC were they not former members of the PDP? The fact is that once the right conditions have been met the right persons can handle any position and drive the party forward. Remember that Gulak won that case in court and then assumed the Chairmanship of the party but they refused him which is the same impunity we are talking about today. Do you know what they told Gulak? Do you know what they asked him to go and bring, before they brought in Sheriff to come and fight on their behalf. A plan to continue their imposition and impunity in the party which eventually backfired. Impunity must end in the PDP, in fact this kind of conflict is not bad because it will help to resolve a lot of things that have gone wrong in the past. I can tell you at this point that Sen. Alimodu Sheriff was divinely sent by God to rid Nigerian politics of impunity, he is the only cure to impunity not only in the PDP but also in the APC and all other political parties as well because they will all learn from what is happening today in the PDP.
So until they try to force out somebody and the person resists and they fail they will not learn from it.
QUESTION: We are less than 18months to the next campaign season and general elections. With this back and forth, unending legal tussles and lack of compromise being witnessed within the PDP, a party that carries the only credible hope of political opposition against a ruling APC that has failed to deliver on so many of its campaign promises to Nigerians. Do you still see any hope for Nigerians who still keep their faith in the PDP, a party fighting against itself?
RESPONSE: Let me tell you something important first, you measure a party in government by the promises it has been able to keep, another is the implementation of their own budget. Having said that, you must understand that Nigerians are becoming increasingly politically enlightened to extent that all any well meaning party needs to do is to present a viable presidential candidate and allow the electorate decide. Look at what happend in America with Trump it was the electorate that won the elections and not the party. This is not to say political parties don't matter any longer, party is a platform to galvanise people but once you bring a credible individual Nigerians will go there.
Even though political party philosophy have not been clearly defined but Nigerians know PDP and they know APC and what they stand for, so if PDP today as the only truly national party presents a credible candidate, it is left for Nigerians to decide whether to still go with APC or choose the PDP.
I can tell you authoritatively that PDP has fought corruption more than any other party in the history of their country because with the first 2 months of the PDP administration in 1999 a speaker of the House of Assembly was removed just for age falsification, various Senate Presidents were impeached, Governors were impeached as well as a serving Inspector General of Police, so whoever is telling you that PDP doesn't fight corruption or won't fight corruption if returned to power at the federal level is being economical with the truth. So how can you compare it with what is happening in today's APC government which rode on the mantra of anti-corruption crusade to win the votes of Nigerians. PDP will certainly do better if returned to power in 2019.
en
SOURCE :The Nigerian Voice (opinions)