"Please, Breakdown Your Grammar", Delta PDP Chairman Begs Reporter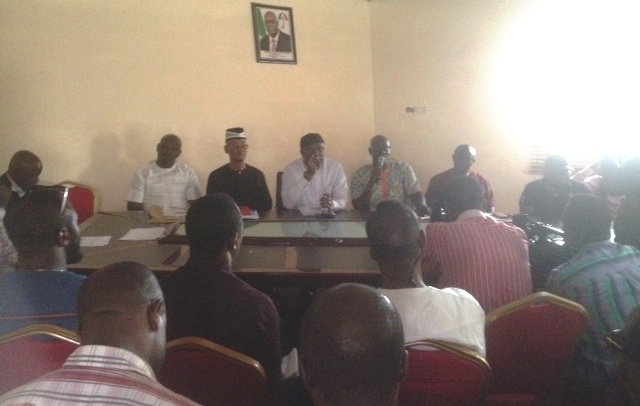 By Kenneth Orusi, The Nigerian Voice, Asaba
Chief Barrister Kingsley Esiso, the Peoples Democratic Party (PDP), Chairman in Delta State was thrown off balance during a question and answer section after briefing the press.
The chairman who was flanked by members of the state executives could not comprehend the word "beehive" thrown at him by a journalist at the party's secretariat on Friday in Asaba.
Barr Esiso, who was seen battling to fathom the word pleaded with the journalist to repeat the question but in a simplified way for understanding.
"Please, breakdown your English", after he and members of the executive were summersaulted by the English word.
Also, miffed with another question put across to him by another journalist bothering on the Delta State Independent Electoral Commission (DSIEC), the chairman who could not control his emotional state, arising from the first question, said, "Don't bring DSIEC here. I came here to brief you on PDP and not DSIEC. Do not discuss DSIEC here please".
The State Secretary of the party, who doubles as the state chairman of Tricycle and Motorcycle Riders Association, Obi Nzete, quickly cut in, "go to DSIEC and ask your question. This is PDP".
Irked by yet another question on what mechanism the party has put in place to check the rate of defection arising from aggrieved members with particular reference on Dr Cairo Ojougboh, who has raised issues on the 2017 budget in the state, Barr Esiso, simply said, "we cannot discuss budget here".
In another development, a question put to him on the amount of the party's nomination form for aspirants, the Peoples Democratic Party chairman queried that the party does not sell forms for members of the public.
Hear him: "We are not selling forms for the general public", when journalists pressed on him, he asked "Are you an aspirant? We have our channels of communication",
But after much pressure was mounted on him, he disclosed that "chairmanship form is N1 million, councilor, N200, 000 and women is free because we want to encourage them to participate in politics and we have also tried to make our people understand that they should at least give us three female councillorship candidates".
en
SOURCE :The Nigerian Voice (politics)