Police Gun Down Member Of Ikorodu Security Forces Killers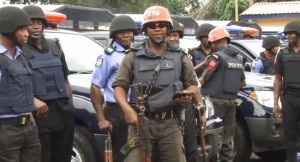 One of the killers of Police and military personnel in Ikorodu, Lagos State has been gunned down, following a duel with Police Special Units and the Inspector General's Intelligence Response Team.
According to a statement from the Force Public Relations Officer, Moshood Jimoh, the team had trailed the militant to a hideout in the Ibeshe area of Ikorodu on Sunday.
The suspect, whose name was given as Endurance Ominisan, was said to have escaped to the roof of the building on sighting the Police team, from where he opened fire on them.
The statement said he was hit by return fire from the Police and later captured, while a Turkish pistol and five rounds of ammunition were recovered from him.
Mr Onimisan was said to have died of his wounds while being conveyed to the Ikorodu General Hospital for treatment.
Before he died, he confessed to being part of militant attacks on Ikorodu and other neighbouring communities in Lagos state, as well as kidnappings.
Part of the statement read: "While he was being taken for medical treatment, he made oral confessional statement, admitting to the criminal roles he played along with other suspects at large in some kidnap for ransom cases, and militant attacks on Ikorodu and other neighbouring communities in Lagos State.
"He also confessed to Oniba of Iba kidnapping, Turkish School children and members of staff kidnapping, and many other kidnappings in Lagos and Ogun states before he was confirmed dead at the hospital.
"The Police Special Units and IGP Intelligence Response Team are on the trail of the other members of this vicious and notorious gang. Much progresses have been made in the investigation of the gruesome murder of the Police and military personnel.
"Members of the public in Ikorodu and neighbouring communities are hereby advised to go about their lawful activities without fear or apprehension, and have confidence in the ability of the Nigeria Police Force to sustain the normalcy that has been restored in the area".
SOURCE: Channels Tv