PRADIN: Mobilization fees increase would only encourage corruption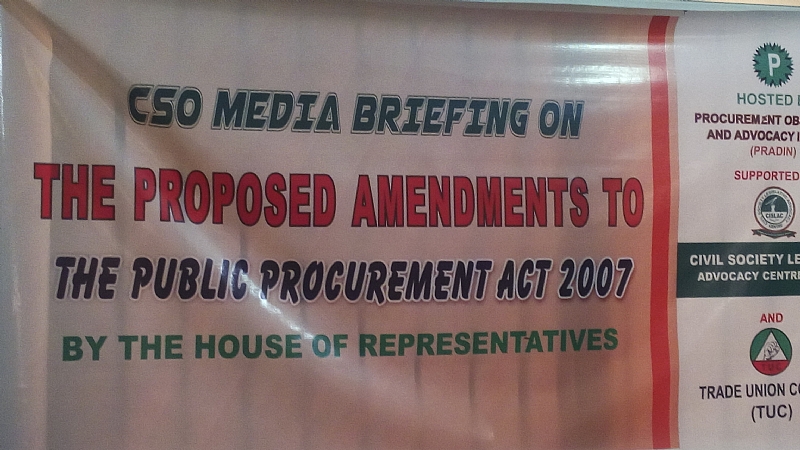 The Procurement Observation and Advocacy Initiative (PRADIN) civil society, has expressed it's displeasure at the proposed amendment of the Public Procurement Act (PPA) 2007 by the House of Representatives.
A move which the Civil Society has deemed not necessary. This was made known by the National Coordinator PRADIN, Mohammed Attah at a sit down with pressman, on Thursday, in Abuja.
Mr. Attah said that the increase of mobilization fees from 15 percent to 50 percent was unhealthy for the Nigerian economy. Adding that amending a law that was not tested would only seek to harm the existing dynamics of the law.
"the recommendation to give up to 50 percent mobilization fees will only further encourage corruption. This cannot in our view stop or reduce instances of project abandonment " He said.
He further explained that since the establishment of the Act, 10 years ago, it had been observed in disobedience due to non compliance to inaugurate the National Council for Public Procurement (NCPP) provided in the Act.
The proposed Act amendment also involves the removal of the Minister of Finance as the chair of the Public Procurement Council, and replacement with the President of the country does not sit well with the civil Society. The National coordinator expressed that such a move would be considered irrational and an attempt to ridicule the fight against corruption.
"to remove the Minister of finance as chairman of the NCPP Council is a clear violation of the finance control management Act of 1958."
Attah advised that the NCPP constituted and inaugurated, which he believes would be an effective tool in fighting corruption and sustain the change agenda of the present administration.
Mr Chimelem Samuel, a representative of the Ambassadors Initiative for Development and Empowerment said an increase in mobilization fees was not what was needed but rather the legislators should step up their oversight functions, so that every money released for a project be accounted for and monitored.
Present at the briefing were representatives of CISLAC and youth awareness and development, and Trade Union of Nigeria.
SOURCE: The Nigerian Voice (local news)