President Buhari is still resting, will be back top office soon: Lai Mohammadu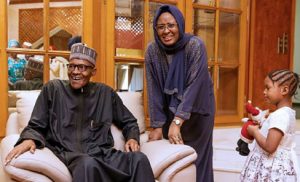 Again, President Muhammadu Buhari on Wednesday stayed away from the regular Wednesday meeting of the Federal Executive Council. FEC, at the Presidential Villa, Abuja. President Muhammadu Buhari and Aisha Buhari and grand daughter This would be the third time the president would, in a row, miss FEC meeting. Like the previous times, Vice President Yemi Osinbajo also presided.
At exactly 11 am, Osinbajo called for recitation of the national anthem to signal the commencement of the meeting. Thereafter, he called the Minister of Federal Capital Territory, FCT, Mohammed Bello and the Minister of Budget and National Planning, Udo Udoma for Muslim and Christain prayers respectively. Then, Journalists were excused from the meeting.
Briefing them at the end of the meeting, the Minister of Information, Lai Mohammed said that the President was still taking his rest as advised by the medical doctors. He however appreciated Nigerians for their concerns and prayers for the speedy recovery of the president. He said: "You are also aware that the President was at his office yesterday, and he worked at his office yesterday.
A few days before now, we came out to say he's been asked to take some rest by his doctors, and he chose today to rest and not to attend the Federal Executive Council meeting. "We want to take this opportunity to thank Nigerians who have expressed a lot of concerns and sympathy, and who have been praying for him. Like we've always said, Mr president will stick to his doctor's advice so that he can recover much more quickly.
"We thank all of them for their concern. I think it shows how concerned Nigerians are about the health of the president. And all their suggestions are being taken on board."
Asked to react to the report that the president was being fed intravenously and how long more he needed to rest, the Minister described the report as "bumkum", saying that the president would be back to office as soon as he fully recovered. "The answer to your first question is absolute bumkum. It is absolutely untrue that he is being fed. He was in the office yesterday as you all reported.
And if the doctors said he should take a rest, I think you'll recover faster when you rest when you ought to rest, rather than by forcing yourself to work when you are not fit to work. "All he is doing is following the doctor's advise. Mr president himself told the nation he has never been this sick and he is going to take it easy. He said it from day one when he came back from the UK.
"So, whatever is happening today is not any strange development. It is exactly what he said. That he's been advised to take it easy by his doctors and that he will soon also go back for further treatment. "So, I don't think it's anything that is out of the place from what he said. He has been quite transparent and upfront in the matter concerning his health", he said.
Mohammed also stated that the president's ill health would not affect the celebration of 2 years of his government. "We'd be two years old in a few weeks time. And in our very normal customary way, we are going to mark it because we have a lot of story to tell. We are proud that within two years we've made tremendous progress." Vanguard
Source: The Nigerian Voice (politics)