President Buhari names Prof. Ocheni, Hassan, new minister nominees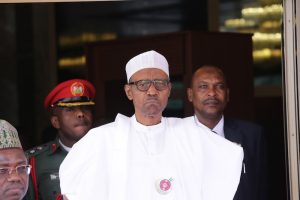 President Muhammadu Buhari on Wednesday, sent two names of Ministerial nominees to the senate for confirmation.
The nominees whose names were announced on Wednesday by the President of the Senate Dr. Bukola Saraki includes: Prof. Stephen Ocheni from Kogi State and Suleiman Hassan from Gombe State.
Mr Hassan was one of the non career Ambassadors designates cleared by the Senate last week and now nominated minister.
The Constitution of the Federal Republic Nigeria (1999) as ammended does not allow for any individual to hold two public offices.
Our correspondent gathered that going by the principle of Federal Character, the Gombe state nominee would be replacing former Minister of Environment Aisha Mohammed in the Cabinet.
Aisha Mohammed was last year appointed to serve as a Deputy Secretary General in the United Nations.
The Kogi state nominee will however replace the late Minister of State for Labour Barr. James Ocholi who died on March 6, 2016 in an auto crash along Kaduna-Abuja road.
The nomination of replacement is coming over one year after the minister lost his life.
Many stakeholders from the state had called on the President to send a nominee to replace the late minister so that the people of the State would be well represented in the Cabinet.
There are indications that the confirmation of the ministers would herald a cabinet reshuffle by the Presidency.
However, the list of ministerial nominees is coming at a  time when the Senate stood down for two weeks consideration of the request of President Buhari for the appointment of Resident Electoral Commissioners (RECs).
The Senate based its decision on what it termed disregard for its resolutions.
The upper legislative chamber specifically berated the President for appearing to be doing nothing about the rejection of Ibrahim Magu as the Chairman of the EFCC but allowing him to function in acting capacity.
The senate stressed that it was wrong to leave any appointee in acting capacity even after he had been rejected twice by the senate (NAN).