President Muhammadu Buhari & Abike Dabiri-Erewa Timeout for Diaspora Voting Rights… 2019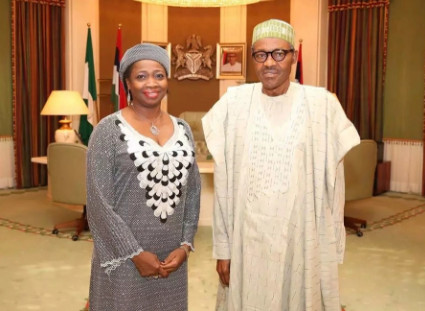 Talk is cheap: "We are critically looking at the system itself we must make sure that the election process is credible" President Muhammadu Buhari speech to Nigerian Community in United the Kingdom, captured from Channel Television.
Abike Dabiri-Erewa, The Senior Special Assistant to the President on Foreign Affairs and the Diaspora visits to the United States are not all about New York and Washington DC and or rallying around families and friends. It's all about effectively fulfilling promises made at campaigns, rallies, townhall meetings, face to face meetings, etc.
Diaspora Nigerians are about to be fooled again, as 2019 voting rights are doom with the recent Presidents statement in London, the statements hold no water. Yet, the APC needs diaspora to mass mobilize and influence families and friends as it did in 2015 seeking same in 2019.
Storm in a cup of tea! This is not going to happen as the bill delay for diaspora commission is another form of corruption and injustice to peace-loving Diaspora Nigerians; averagely remitting $22 billion annually. Hence, the President is not critically looking at the remittance of $22 billion annually as a mantra to inculcate diaspora in all his ordeals but critically seeking reelection by force by fire.
Mr. President decided to branch to London to tell his story and ignored America when he met with the US President. It's important to educate President Muhammadu that, it doesn't take a rocket scientist to actualize diaspora voting with the power of software, everything is possible!
The appointment Abike Dabiri-Erewa as the Senior Special Assistant to the President on Foreign Affairs and the Diaspora has not in any way yielded evidential dividend, including purported lingering diaspora commission, voting rights and working with technocrats.
This is the same way and manner the government ignores legitimate demands, which over time generates frustration and upturn into crises, thereafter the government tags such as terrorists. Opportunities for dialogue is open till the end of June 2018 as diaspora is prepared to vote in credible promises and vote out empty promises.
en
SOURCE :The Nigerian Voice (opinions)