Professor Toyin Ogundipe appointed the 12th Vice Chancellor of the University of Lagos.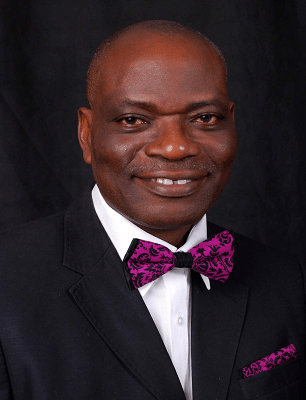 Professor Toyin Ogundipe has emerged the new VC of Unilag following a meeting of the university's Governing Council off campus on Friday evening.
The Pro-Chancellor and Chairman of the Council, Dr Wale Babalakin had congratulated Ogundipe on his well deserved appointment and wished him well.
Among the contestants for the reverred post, Ogundipe was ranked first by the Council while the former Dean of the university's Students' Affairs Unit, Professor Olukayode Amund, and the former Vice Chancellor of the Caleb University, Imota, Professor Ayodeji Olukoju, came second and third respectively.
Professor Ogundipe is currently the Deputy Vice Chancellor, (Academics and Research). He has served the university in various capacities, notably as the Director of the Academic Planning Unit. Back in July, Governor Akinwunmi Ambode of Lagos appointed him Chairman of the Lagos State Science and Innovation Council.
He is to succeed the incumbent Vice Chancellor, Professor Rahamon Bello , whose tenure ends on 10th November, 2017, and resume as the substantive Vice Chancellor on 11th November.
Ogundipe belongs to the Department of Botany in the institution where he is a professor of Plant Systematics. His appointment makes him the fourth alumnus of UNILAG to emerge Vice Chancellor of the university.
His announcement as the new Vice Chancellor has been brought excitement to lecturers of the university at the Senior Staff club. His colleagues see him as one capable of driving UNILAG to achieving its 25 year strategic plan. Students and alumni members familiar with his personality have also applauded the Council for appointing him.
His Profile
Born in 1960, Ogundipe is a member of many scientific organisations. He has been a Life member, International Society of Plant Morphologist, a Fellow of Cohort 9 of the Leadership for Environment and Development, and the Linnaean Society, London.
In addition, he is a reviewer for many scientific academic journals and an external examiner to many universities including University of Johannesburg, South Africa. He has been on the accreditation team to many universities in Nigeria and Ghana. He is Professorial Assessor to many universities including the University of Ghana.
Professor Ogundipe has well above eighty (80) research articles in various high profile journals both locally and in the international setting.
Admirably, the incoming VC of UNILAG has coauthored seven reviewed books of international acclaim. He is also a three-time co-recipient of the University of Lagos, Faculty of Science Best Researcher Award and he has supervised and co-supervised many M.Sc and PhD students with two of his PhD students winning the prize for the best thesis on different occasions.
Ogundipe has also been a recipient of many financial aids from TETFund and the University of Lagos Agricultural Research Council. He has contributed immensely to extensive research on biodiversity and the theory of evolution.
en
SOURCE :The Nigerian Voice (local news)