Re: Appointment Of Csp James Nwafor, Rt'd, Former Commander, Special Anti-robbery Squad (sars), Awkuzu As Your Senior Special Assistant On Security Matters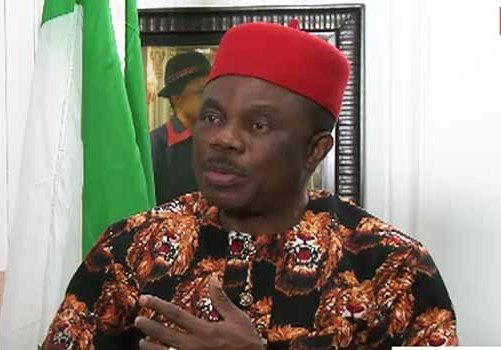 We the undersigned human rights groups and civil society actors write to you on the above subject matter.
The media, particularly the social media, has been awash in the last few days with the news of the appointment of CSP James Nwafor, rt'd as a Senior Special Assistant on Security Matters to Your Excellency. While some people dismiss it as a mere rumour, others close to your government who do not want their names to be mentioned confirm it as a reality. We therefore, write to seek clarification on from Your Excellecncy on the burning issue.
Your Excellency will recall that James Nwafor was the Commander at Special Anti-Robbery Squad (SARS), Awkuzu between 2012 and early 2016 when he was redeployed following series of petitions made against him to the police authorities over numerous atrocities and egregious human rights violations he committed while he was the head of SARS, Awkuzu.
You will further recall, Sir, that when James Nwafor made a return to Awkuzu SARS on the 12th of September, 2016 his return was greeted with loud opposition from civil society, both from within and outside Anambra State.
Following the strong objections that trailed James Nwafor's come-back, he was removed from Awkuzu SARS in less than fourteen days after his return and posted to the Administrative Department at the State Command Headquarters, Awka where he remained until his retirement on the 1st of April this year.
It is a common knowledge, His Excellency, that James Nwafor's reign at SARS, Awkuzu was replete with incidences of worst forms human rights atrocities, ranging from unlawful killings, enforced disappearances; arbitrary and unlawful arrests; torture and other cruel, inhuman and degrading treatments; prolonged detentions without trial; conversion of suspects' properties to personal use; demand and collection of outrageous sums as bail fees in exchange for freedom, et al.
Official impunity was the order of the day under James Nwafor's SARS as courts' Rulings, Summons, and even judgments were flagrantly spurned at. During the period, SARS Anambra State was constantly in the news for the wrong reason. It was unarguably the lowest point in the history of human rights in Anambra State.
For the purposes of clarity, Your Excellency, during James Nwafor's reign at SARS, Awkuzu, Amnesty International carried out research on incidences of torture in Nigeria for two different periods (2014 and 2016) and produced damning reports, which were widely circulated in Nigeria and abroad. The two reports not only indicted James Nwafor, but found that SARS, Awkuzu under him was the headquarters of human rights violations, particularly as it relates to torture, cruel, inhuman or degrading treatment and extrajudicial executions.
The Amnesty International's Report of 2014 captioned " WELCOME TO HELLFIRE ", and that of 2016 captioned " YOU HAVE SIGNED YOUR DEATH WARRANT both contain gory details of many egregious violations of human rights by officials of SARS under CSP James Nwafor. It is regrettable, Your Excellency, that both captions were derived from researches carried out around the activities of SARS, Awkuzu. While the former was an inscription on one of the death cells at SARS, Awkuzu under James Nwafor; the latter was culled from the testimony of one of the many victims of human rights violations in the hands of James Nwafor and his men, who were interviewed by Amnesty International researchers.
Apart from the efforts made by Amnesty International at exposing the unlawful breaches and infractions committed by James Nwafor, many other local human rights organisations like Network on Police Reform in Nigeria (NOPRIN), International Human Rights and Equity Defense Foundation (I-REF), Civil Liberties Organisation (CLO), International Society for Civil Liberties and Rule of Law (INTERSOCIETY), among others, have on many occasions in the past written several petitions against the activities of SARS, Awkuzu under James Nwafor regarding human rights atrocities.
His Excellency, we are not unmindful, of the provision of Section 196(1) and (3) of the Constitution of Federal Republic of Nigeria, 1990, as amended, which is to the effect that the Governor of a State may appoint any person as a Special Adviser to assist him in the performance of his function and that such appointment shall be at pleasure of the Governor; and terminates when the Governor ceases to hold office. The above Constitutional provisions confer on you the discretion to appoint any person of your choice as a Special Adviser.
However, we believe that in exercising the discretion, the antecedents and mindset of characters to be so appointed, particularly on important issues as security, must be seriously considered as it reflects on the quality of advice and assistance that Your Excellency will be getting.
Furthermore, His Excellency, Section 17(2)(b) of the Constitution of Federal Republic of Nigeria, 1990, as amended, provides that the sanctity of the human person shall be recognised and human dignity shall be maintained and enhanced. This provision is part of what should be the fundamental objectives and directive principles of every government in Nigeria. That is to say, that every action of government, including decisions relating to appointments, must be in due recognition of the sanctity of human person, aimed at maintaining and enhancing human dignity.
To say that James Nwafor observed the letters and spirit of the above constitutional provision in utter contempt while he held sway at SARS, Awkuzu is to state the obvious.
Therefore, His Excellency, appointing him by as a "SENIOR SPECIAL ADVISER ON SECURITY" will amount to a serious affront to the genuine efforts being made by human rights advocates in Nigeria in general, and Anambra State in particular. It will offend the psyche of numerous families that lost their loved ones in the hands of James Nwafor; and erode confidence of the people on your government. It leaves much to be desired. We believe that there are a thousand and one other Nigerians, both at home and in the Diaspora who have better requisite qualifications, expertise, character and untainted human rights record to serve in that capacity.
We call on you to urgently clear the air on this issue by making public the true position of things in this regard.
Thanks for your anticipated cooperation
Signed:
1. NOPRIN Foundation (Network on Police Reform in Nigeria)
2. International Human Rights and Equity Defense Foundation (IREF)
3. Partnership for Justice
4. West African Human Rights Defenders Network
5. Pan African Human Rights Defenders Network
6. Civil liberties Organization
7. Nde Oduko Foundation
8. Citizens advocacy For Social and Economic Rights (CASER)
9. Human Rights Social Development and Environmental Foundation( HURSDEF)
10. Calistus Ihejiagwa and Co
11. Unshackled Initiative.
12. Network of Civil society Organizations of Nigeria ( NOCSON)
13. Legal Resources Consortium (LRC)
14. Confluence of Rights
15. Civil Society Network Against Corruption, CISNAC,
16. Centre for Human Rights Social Justice and Anti torture Initiative
17. Smiles Africa International.
Cc:
v Amnesty International Nigeria
v Human Rights Watch
v United States Embassy in Nigeria
v British High Commission in Nigeria
v Canadian High commission in Nigeria
v European Union Embassy in Nigeria
v The United Nations Human rights Council
v African Commission on Human and People' Rights
v Embassy of the Netherlands in Nigeria
v Belgium Embassy in Nigeria
v German Embassy in Nigeria
v Embassy of Sweden in Nigeria
en
SOURCE :The Nigerian Voice (local news)