Real Madrid, Chelsea agree to Thibaut Courtois deal that makes sense for all involved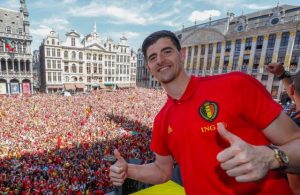 It took a holdout , fines, agent loudmouthing and a replacement . But finally, Thibaut Courtois is on his way to Real Madrid.
Real announced Wednesday that it has agreed to sign the Belgian goalkeeper from Chelsea for a fee believed to be in the region of $45 million. Courtois will sign a six-year contract upon the completion of a medical on Thursday.
And the Spanish giants, officially, have themselves a bargain. But the deal, in the end, made sense for all involved. Why the deal makes sense for Real Madrid
Real Madrid has won three Champions Leagues in a row with Keylor Navas between the sticks. And it has triumphed because of him more often than it has despite him. Real bought the Costa Rican following his heroics at the 2014 World Cup. Although he has been the subject of intermittent criticism, he hasn't disappointed. He's been excellent .
In that light, Real's pursuit of a replacement has always been somewhat puzzling.
Yet Navas is also 31. Courtois is 26. Navas-to-Courtois is only a marginal upgrade in the short term. But it will likely prove to be a massive one in the medium term.
The kings of Europe just got better and younger, and did so at a very reasonable price. Goalkeepers half as accomplished as Courtois have gone for double the price this summer. Real president Florentino Perez saw Courtois entering the final year of his Chelsea contract and sensed opportunity. He waited for the right moment, when Chelsea's leverage was low. And he pounced. Why the deal makes sense for Chelsea
Chelsea, on the other hand, made the most of an unfavorable situation. Or maybe not the most, but definitely more than the least.
Courtois wanted out. Not only had it become clear that he would not extend his contract at Stamford Bridge; he appeared to be intent on causing trouble if forced to stay another year. He had refused to report for training alongside his fellow World Cup semifinalist teammates just five days before Chelsea's Premier League opener.
Had he remained in London, he might have done so as a malcontent, and new manager Maurizio Sarri didn't want that. Sarri said last weekend that he preferred "only players with high levels of motivation."
Chelsea couldn't guarantee Courtois would fit that description. And even if it convinced him to engage for nine more months, it likely would have watched in June as he walked to Madrid for free. So it sold to help fund a deal for Courtois' replacement, Kepa Arrizabalaga . In conjunction with the Courtois deal, it also announced the signing of Real midfielder Mateo Kovacic on loan .
The net spend is around $45 million, which isn't ideal. But that's the price for getting a younger and more retainable keeper, albeit at a slight downgrade in quality. The alternative – keep Courtois, forfeit tens of millions of dollars, search for a replacement next summer – was worse.
The moment Chelsea felt certain that Courtois would turn down any reasonable contract offer, it had to commit to selling him. If anything, Real was the club that acted too soon – it could have ridden Navas for one more season, signed a pre-contract agreement with Courtois in January, and welcomed him next summer without paying a transfer fee.
But alas, Courtois did not want that. He wanted his move to Madrid now. Why the deal makes sense for Courtois
More accurately, he wanted his return to Madrid.
Courtois had spent three seasons there from 2011 to 2014, on loan from Chelsea to Atletico Madrid. While with Atletico, he met his then-girlfriend, Marta Dominguez. The couple eventually had two children, but split amicably in 2017, with Dominguez moving back to the Spanish capital. Courtois craved the Real transfer – or an Atletico one – to be closer to his kids and their mother .
Of course, there are probably sporting reasons as well. Chelsea missed the Premier League's top four , and therefore the Champions League. Real Madrid has won it four out of the past five years. A World Cup Golden Glove winner deserves to be playing on Tuesday and Wednesday nights in Europe, not Thursdays.
And there are likely financial reasons. Courtois will receive a pay raise and six years of security.
Other than partnerships and friendships Courtois formed at Chelsea and in London, there aren't really any downsides to a move to the world's biggest club. What's next for Real Madrid?
Madrid's reaction to losing Cristiano Ronaldo has been strangely sensible. It hasn't splurged for a fringe star after selling Ronaldo to Juventus . No perfect fit presented itself, so Perez has kept his proverbial powder dry. Eden Hazard looks set to stay in London because Real feels that he is overpriced.
Courtois was a bargain, and Los Blancos will likely wait for similar possibilities to arise before they pounce again. They'll allow the current roster to harmonize in new manager Julen Lopetegui 's system, then make changes next summer after a season to figure out who suits the Spaniard's style and who doesn't.
The most immediate decision to make, tangential to the Courtois purchase: Will Navas stay? Or will he go? He could start from day one at the vast majority of clubs across Europe. But he might just fancy himself in a fight for his place in Madrid. And based on what he's done for the club over the past four years, it would be foolish to assume he'll lose that fight.
Henry Bushnell covers global soccer for Yahoo Sports . Have a tip? Question? Comment? Email him at [email protected] , or follow him on Twitter @HenryBushnell , and on Facebook .
en
SOURCE :The Nigerian Voice (sport)