Redeemer's University convocates 465 students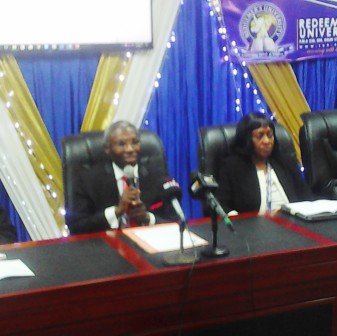 By Nofisat Marindoti, The Nigerian Voice, Osogbo
No fewer than 465 students would on Thursday, be convocated by the Redeemer's university in Ede, Osun State.
The Vice Chancellor of the institution, Prof. Debo Adeyewa, disclosed this at a press conference heralding the convocation ceremony on Monday.
Prof. Adeyewa also revealed that out of the 465 students, 22 made First Class honours, 145 made Second Class Upper Division, 203 made Second Class Lower Division and 95 others fell into the Third Class and Pass categories.
He stated that the other programmes of the event include the award and Recognition Day on Tuesday, the Convocation Lecture on Wednesday, Commissioning of Centre for chemical & Biochemical Research Complex on Thursday and Anointing service on Friday.
Enumerating the achievements of the University since inception, the Vice Chancellor said that the institution's commitment to service delivery exceeds the highest standards.
According to him, "In our quest for continuous improvement of the quality of our products and services, the University underwent a Quality Award assessment process in July, 2017. The experience impacted positively on our quality processes.
"Our capacity building in ICT is also second to none as staff members were trained on high skill information technology by the Digital Bridge Institute in the past few months.
Advertisement
"I am glad to inform you that we are the first University in this nation to commence a leadership training scheme embedded in our curriculum to train all our students in world class leadership.
"As a faith-based and focused university, we have zero tolerance for students' misconduct. This informed the introduction of an initiative which we christened "Recovery of Destiny, ROD, programme in 2012 to afford erring students another opportunity of being able to complete their course of study after necessary sanctions have been applied." He explained.
Adeyewa also revealed the university's role in curbing Ebola and Lassa fever, saying the institution typically saved Nigerians from the Ebola virus and spent 375 dollars which has not been refunded by the Federal Government in the process.
He said the university has also developed rapid test kits that could detect Ebola and Lassa viruses within 10 minutes.
"Our centre of excellence has become the best rated among its peers in Africa through it's profound research outputs, innovation and manpower development for the continent. We played an active role before and after the outbreak of infectious diseases (Ebola and Lassa fever). In this regard and to the glory of God, The World Bank has rated us as the university with the best research facilities in Sub-Saharan Africa.
"Another breaking news is that the US government through the US department of Defense has just approved a sum of $4.3 million for a five year research g grant under the H3Africa Research network." the VC announced.
He however urged the Federal Government to support private institutes as they are contributing to the growth and well-being of the country.
en
SOURCE :The Nigerian Voice (local news)